Crocodile Dundee's Paul Hogan Permitted To Leave Australia After Meeting With Tax Officials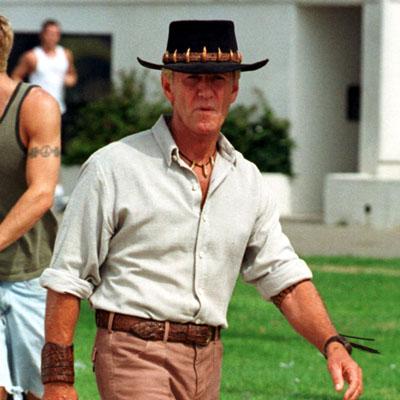 Actor Paul Hogan is able to leave his native Australia after he was ordered to stay there for two weeks, RadarOnline.com has learned, after he met with the Australian Taxation Office over a multimillion dollar tax bill.
Hogan, 70, lives in Los Angeles with his wife Linda Kozlowski and their son. He visited Australia for his mother's funeral August 20, and had been prohibited from leaving the country until he settled the undisclosed debt.
Article continues below advertisement
Crocodile Dundee Blocked From Leaving Australia Until He Pays Multi-Million Dollar Tax Debt
The actor's attorney, Andrew Robinson, said Thursday that while Hogan does not agree with taxes assessed, the meeting between the actor and the tax officials was ''cordial and co-operative.
"While the Commissioner and Mr. Hogan remain in dispute on more general taxation issues," Robinson said in a statement Thursday, "Mr. Hogan continues to protest his innocence and denies any wrongdoing."
Hogan told A Current Affair this week prior to the agreement, "I actually came out here at the request of the Australian Crime Commission at my own time and expense to assist them with their inquires.
"If I was a tax evader, which I'm not, I must be the dumbest one in the world, because they gave me five years notice that they have seized every piece of paper that my tax advisers and lawyers and accountants have ever had," he said. "I kept coming back here."
Hogan became a pop culture phenomenon off the success of his Crocodile Dundee films in the 80s.