Exclusive
Pamela Anderson Spent Many Years Doing Cocaine & Drinking Booze To Numb The Pain Of Rape & Molestation Memories, Now 'Working Harder Than Ever' On Her Recovery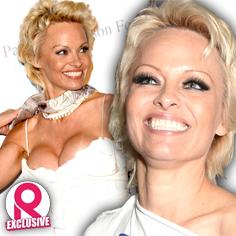 Article continues below advertisement
"I went to a friend's boyfriend's house and his older brother decided to teach me backgammon which led into a back massage, which led into rape. My first heterosexual experience. He was 25 years old and I was 12."
A source close to the former Baywatch star told Radar that she's been working with an addiction specialist who encouraged her to open up about her painful past.
"Pamela has been working closely with an addiction specialist psychologist that has helped her tremendously. Those with past drug and alcohol abuse are encouraged to talk openly about their demons and that's the reason she's opening up about the child molestation and rape allegations," the source told Radar.
"Pamela was addicted to alcohol and cocaine and she spent a long time numbing her pain with those substances."
The actress' rep, Ann Gurrola, told Radar, "I have no knowledge of any of that. I can tell you she is happily married, in fantastic health, her boys are wonderful and her family comes first."
The insider goes on to reveal that Anderson's recovery is going well, as is her relationship with Rick Salomon.
Article continues below advertisement
"Pam's doing amazing with her recovery. She's dropped all of her hard-partying friends and only surrounds herself with family and Rick Soloman," the source said, echoing Radar's exclusive story on the 46-year-old's sobriety from earlier this month.
"She is closer than ever to her two kids and her life has transformed completely."
And speaking of transformations, Anderson's shocking pixie cut was a symbolic way of dropping her previous "bimbo" reputation, the source indicated.