Exclusive
Another 'RHOA' Lawsuit! NeNe Leakes' BFF Diana Gowins Tangled In Nasty Child Support Battle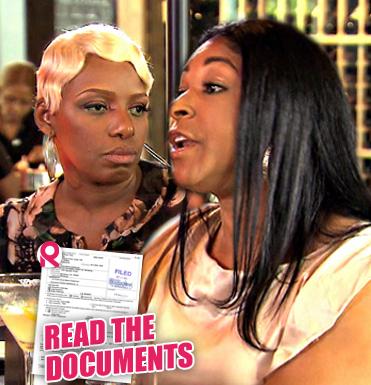 If personal drama is a pre-requisite for being a Bravo housewife, then NeNe Leakes' BFF and bridesmaid Diana Gowins could be ready to make the move from Real Housewives of Atlanta bit player to series star sometime soon. RadarOnline.com has learned that Gowins is taking her baby daddy to court over claims he owes her more than $100,000 in child support.
In new court documents obtained by Radar, Gowins claimed her ex, Willie E. Gary, violated numerous provisions of the original child support agreement for their son and daughter (both twins), and she accused him of being behind $68,549.05 in child support.
Article continues below advertisement
Gowins claimed Gary had "failed to make child support payments between the months of June 1, 2012 and the present." According to the documents, filed on February 7, he had been ordered to pay his ex $10,000 a month.
In addition, she explained that Gary also owes her another $82,907.66 because he "is ordered to pay medical costs incurred, educational costs and costs for extracurricular activates" for their two minor children, Tahj and TaJiah.
"Gowins provided Gary with the various receipts to be reimbursed… to date he has failed to reimburse," the February 7 court filing stated.
Gary filed a response, claiming Gowin's emergency court docs are groundless and that he has not paid up because he isn't making enough money.
"Gary suffered an involuntary and significant loss of income due to the economic circumstances warranting a deduction in child support," his lawyer stated in the docs.
Article continues below advertisement
The judge has yet to make a ruling on the emergency motion filed by Gowins.
But this isn't the first time they've battled it out in court. In November, 2005, Gary took Gowins to court over claims she was misusing her child support money. The judge agreed, and reduced the payments to $5,000 a month. But then Gowins successfully contested the ruling in 2007 and child support payments were raised yet again.
"He can afford it," her attorney, Randy Kessler said of the successful attorney.