Exclusive
Denied: Judge Rejects Bristol Palin's Baby Daddy Levi Johnston's Bid For 50/50 Custody Of Tripp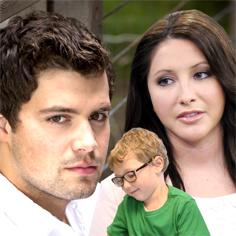 Article continues below advertisement
The couple had otherwise agreed when they split in 2010 that Bristol, 23, would have primary physical custody.
In the wake of Levi's sudden court filing, Bristol said he was $67,000 behind in child support and was not a fit dad because he didn't even visit Tripp on a regular basis. Ex-Vice Presidential candidate Sarah even accused him of being a "deadbeat dad."
And when it came to his bid for custody, Levi was just as disorganized, RadarOnline.com has learned.
He never filed an opposition to Bristol's motion to dismiss but then asked the Palmer Superior Court judge for an extension, but only until after he missed the deadline.
In the end, the judge said he would hear their argument for a extension… but eventually denied their motion. Case closed.