No Drugs! Mila Kunis Reveals She's Planning An 'All Natural' Childbirth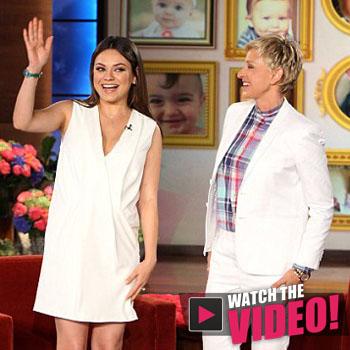 Article continues below advertisement
"I'm very stereotypical. I eat sauerkraut all day long."
She told DeGeneres that Kutcher is a grocery store expert now.
"He assumed that I was gonna have goofy cravings, so he stocked our secondary fridge with weird food. Just like pickles, and sauerkraut, or like anchovies, and ice creams…just in case at one point during this pregnancy I'd be like I really want something."
Ashton's preparedness worked!
"And it happened last week, I was like oh my God, I need a pickle. Like it was just the weirdest thing. Like I needed this pickle and he was like hold on a second and disappeared in the backyard and came back with the most amazing dill pickle of all time."
Discussing her labor plans, Kunis revealed that she's going to try and go without drugs.
"We watched a couple of documentaries and we looked into the like the you know midwife aspect of it and things and spoke to my OB/GYN and realized that the hospital that I'm going to be laboring in does have a midwife, you know, Doula type of thing. So I'm gonna do it as all natural as I possibly can unless there's an emergency or something goes wrong."
Do you think they're expecting a boy or a girl? Tell us in comments.