Exclusive
Beware, Ashton and Mila! The Kabbalah Centre 'Mind-Traps' New Parents, Controls Baby Naming Process, Reveals Prominent Follower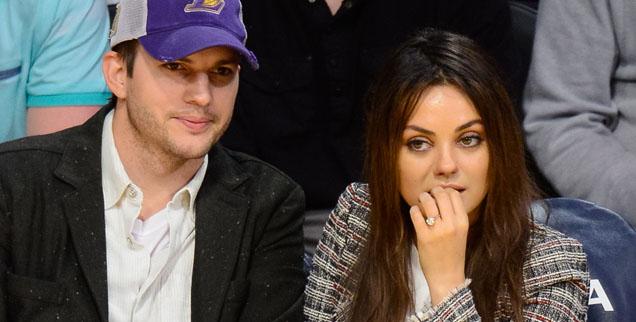 As a prominent member of Kabbalah, Ashton Kutcher and his pregnant fiance, Mila Kunis, will likely introduce their baby girl to the spiritual organization.
But according to a longtime Kabbalist and mother of three, the celebrity couple should think twice before bringing their daughter into the Centre!
Bryce Gruber, editor of popular style and travel blog , exclusively shares her Kabbalah baby naming horror story with RadarOnline.com.
Article continues below advertisement
When Gruber and her husband welcomed daughter Rivkah in October 2012, the couple were thrilled to bring their little girl into New York's Kabbalah Centre for a traditional naming ceremony.
The 30-year-old blogger chose Rivkah, the Hebrew version of Rebecca, after the biblical matriarch.
"A child's Hebrew name is considered to be of huge importance in deciding the energy of his or her life," Gruber explains to Radar. "You pick the name based on its meaning and the attributes you want your child to grow up with. It's extremely important for a parent to feel connected to their child's name."
When Gruber arrived at the Centre just days after Rivkah's birth, community members, or chevre, and teachers told her she must let Karen Berg— the Kabbalah Centre's prestigious Spiritual Director— name her daughter.
The first teacher, David Ghiyam, "insisted that it was a 'merit' to allow Karen to name my child, since she was the 'channel for the light,'" Gruber recalls.
"I said I appreciated the offer, but my husband and I had already decided on a name. David insisted that I wouldn't be able to 'get the light' for me or my child unless the right name was picked."
Article continues below advertisement
The head rabbi, Eitan Yardeni, "began shaming me about my choice for my daughter's destiny until I started to cry in front of everyone," Gruber continues.
Though she insisted her child be called Rivkah until the very last second, the baby was passed to the stage and announced as "Sarah" in front of the torah during the sacred ceremony.
"She had been named Sarah without my consent. I cried endlessly," Gruber says. "The entrance into the Jewish world comes once. There's no re-do. My heart is still so heavy."
"This has happened to so many people," she claims. "What happened to my daughter does happen to baby boys, but I believe it's far more frequent with baby girls."
Gruber, who now practices Kabbalah at home rather than at the Centre, says she later learned the first wife of Karen Berg's husband, Rabbi Rav, was called Rivkah— which may have led the Spiritual Director to denounce the name.
Though Kutcher and Kunis are celebrities, Gruber believes they can't escape the Kabbalah Centre's "mind-trapping" techniques.
Article continues below advertisement
"Will this happen to Ashton and Mila? Well, I can't say 100%, but, I would bet my money on yes," warns Gruber, who bravely chose to call her daughter Rivkah regardless of the spiritual leaders' decision. "They say 'You won't get the light' or 'You don't want to fill your child's soul with negativity, do you?'— scare tactics that work on the majority of new parents."
"Almost every single sect of Judaism looks down on the Kabbalah Centre's practices," she says.
The organization— that also boasts famous followers Madonna and Kutcher's ex Demi Moore — has recently faced controversy: The L.A. Kabbalah Centre's co-director, Yehuda Berg, was accused in January of sexual assaulting a former female member.
UPDATE: A spokesperson for the Kabbalah Centre has released a statement to RadarOnline.com: "We do teach that there is a spiritual connection between a person's name and their soul. So our Kabbalah teachers sometimes suggest that parents consider this when they are choosing the name of the baby. But we never would— nor could we— force a parent to give a baby a certain name.​