Exclusive
O No You Don't! Kim Kardashian BANNED From Meeting President Obama At Gala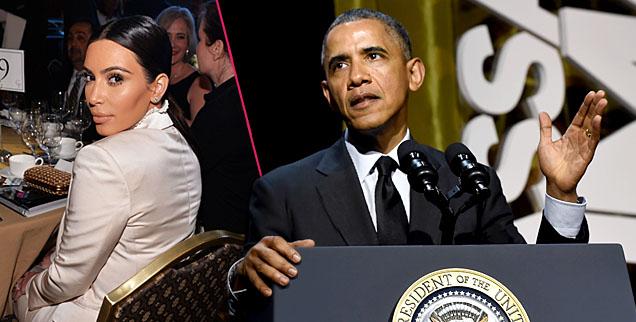 Kim Kardashian just can't take a hint! President Barack Obama has called her fiancé, Kanye West a "jackass" twice, slammed the reality star's family, and turned down her offer to help out on his last presidential campaign. Nevertheless, Kardashian tried yet again to get close to the POTUS at a ritzy gala on Wednesday night – but was flat-out denied!
Obama was in Los Angeles on Wednesday night to accept the "Ambassador for Humanity" award at Steven Spielberg's USC Shoah Foundation gala, and was seated as the guest of honor at the front of the ballroom.
Article continues below advertisement
"Kim's table wasn't close to President Obama's," a source reveals, but she "enlisted one of her minions to scout out the opportunity to meet him."
"Obama's table and surrounding area was swarming with Secret Service, and security was very tight," the source explains. "Kim's lackey was told to go pound sand, and it was conveyed to Kim that she wouldn't be able to meet him."
But it's wasn't that he didn't feel like mingling with the A-list guests: After the President accepted the award, he stayed for dinner and Spielberg brought several friends over to meet him "for about an hour," the source says – just not Kardashian.
"Kim was let down and disappointed," the source reveals. "She didn't understand why she just couldn't say hello to him. Ever since landing the Vogue cover, her ego is even more out of control. In her mind, she and Kanye are more popular than the President Obama and the First Lady!"
In reality, however, the couples aren't likely to double date any time soon.
As RadarOnline.com has reported the sex tape star has reached out multiple times to stump for the President, but the Obamas "wanted nothing to do with her" and turned her down flat!
Article continues below advertisement
Kardashian was outspoken in her support of Obama during his 2012 presidential run, and even "wanted to be a 'surrogate' for the campaign," a source previously revealed, but "She was not the young, cool, image they wanted to portray at all. Even though she kept asking, the campaign would never let her do anything in an official capacity."
"Kim is political poison," the source continued. "Having her involved in a political event or with a candidate is the last thing people who are serious about getting elected want."
And Obama has had no problem making his feelings on Kardashian and her fiancé, West, known.
In 2009, he called the rapper "a jackass" for bum-rushing Taylor Swift's VMA acceptance speech.
They Really Did Say It! 50 Outrageous Kardashian Quotes
Three years later, he called West a jackass again, during an interview with The Atlantic.
"He is a jackass. But he's talented," the Commander-In-Chief said.
Obama also commented on Kimye last year, saying," We weren't exposed to things we didn't have in the same way kids these days are … Kids weren't monitoring every day what Kim Kardashian was wearing, or where Kanye West was going on vacation, and thinking that somehow that was the mark of success."
Article continues below advertisement
The Yeezus rapper fired back threateningly, "I don't care if you're the president … He shouldn't mention my baby mama name, 'cause we both from Chicago."
Despite the obvious signs a Kimye-Obama friendship is not happening, "Kim truly thinks she is American royalty, and she and Kanye are a global couple powerhouse," the insider insists. "She doesn't understand why President Obama wouldn't want to meet her."
In the meantime, the source says, "Kanye told her not to bother wasting her time with Obama because he is a hater. Yes, Kanye actually said that!"