Oh The Humanity! Poor Hilaria Baldwin Worn Out After Photoshoot During Tot's Teething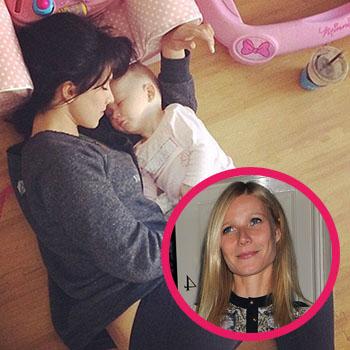 Hilaria Baldwin is giving Gwyneth Paltrow a run for her money as show biz's most out-of-touch mom.
The famous-by-association yogie, 29, grumbled online about her exhaustion after having to star in a yoga-geared photo shoot Thursday as her infant daughter Carmen teethes.
"Between teething & yoga photo shoots, we are tired," the hard-working wife of actor Alec Baldwin wrote in an Instagram pic. "But I have the best restorative yoga partner ever #hilariaypd #yogapostureoftheday (side-lying savasana).
Article continues below advertisement
In addition to the photo shoots, Hilaria — who celebrates her second wedding anniversary with Baldwin next month — has seen many doors open the past few years, including appearances on Live with Kelly and Michael and The View, as well as a recurring gig as a correspondent on Extra.
The bellyaching from Hilaria — a virtual unknown prior to sparking a romance with the 56-year-old Hollywood hothead — is reminiscent of Paltrow's statement earlier this year that she actually has it harder than a 9-to-5 office worker (making no mention of the disparity in salaries).
As we previously reported, the Se7en star raised eyebrows earlier this year when she complained how working moms have it easier than she does when she's filming.
She said, "It's different when you have an office job, because it's routine and, you know, you can do all the stuff in the morning and then you come home in the evening. I think to have a regular job and be a mom is not as, of course there are challenges, but it's not like being on set."