A New Baldwin Baby On The Way! Alec's Wife Hilaria Confirms She Is Pregnant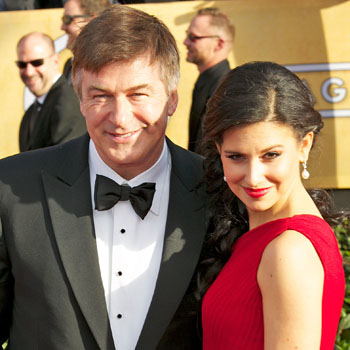 Alec Baldwin, 54, is going to be a dad – again!
After reports surfaced last week that the 30 Rock star's 28-year-old wife, Hilaria Thomas, was pregnant with the couple's first child, the NYC yoga instructor was finally ready to confirm the big news on Tuesday – and RadarOnline.com has the details.
"We're having a baby!" she announced on Extra, adding that it was "a surprise, a wonderful surprise."
She went on to detail how she learned about the news, explaining that she purchased and took a pregnancy test without her husband knowing at their country home.
Article continues below advertisement
"There's a scream I heard, which is a scream normally reserved if there's a spider in the house, not exaggerating. Normally, I will be reading a book. We're in the country, it's quiet, some time to really relax and unwind and sometimes, once a month, you hear 'Ahhh, Alec, Alec!' I come upstairs, and there's a spider on the wall. So then I hear that scream again, but it was not a spider," Alex explained about Hilaria's reaction.
"It was followed by 'I'm pregnant, I'm pregnant!'" Hilaria added. "He runs up the stairs and I'm holding it the test and showing it to him."
"We can joke all about it, but it's honestly the most amazing moment," Baldwin explained. "We are really sharing something special."
Hilaria, who is due in the summer, sparked baby bump speculation earlier this month when she accompanied her husband to the Golden Globes.
"I'm showing," she added. "This is actually gonna happen, now we can start the nursery, the everything, the dreaming!"
Alec has one daughter, Ireland , with his ex-wife Kim Basinger .