Alec Baldwin Has THIRD Epic Meltdown In THREE Hours — Screams Expletives At Female Reporter & Threatens To Press Charges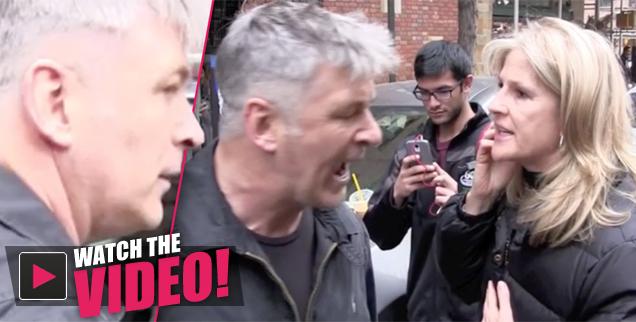 4:58 p.m. PT -- The fall-out has begun. MSNBC has pulled Alec Baldwin's Friday night interview show off the air for the next two weeks. In a statement, Baldwin said: "I did not intend to hurt or offend anyone with my choice of words, but clearly I have – and for that I am deeply sorry. Words are important. I understand that, and will choose mine with great care going forward. What I said and did this week, as I was trying to protect my family, was offensive and unacceptable. Behavior like this undermines hard-fought rights that I vigorously support. I understand "Up Late" will be taken off the schedule for tonight and next week."
Article continues below advertisement
He added, "I want to apologize to my loyal fans and to my colleagues at MSNBC – both for my actions and for distracting from their good work. Again, please accept my apology."
---
Someone needs anger management therapy, stat.
Alec Baldwin went off on a female reporter Friday morning in Manhattan — his THIRD epic meltdown on the media in just three hours, and RadarOnline.com has the explosive video footage.
Surrounded by a mob of photographers and reporters, Baldwin helps his wife Hilaria into the waiting car and then as he walks to the driver's side he loses his temper on a blonde reporter (thought to be Fox's Linda Schmidt), yelling expletives in her face.
"You want to apologize?" Baldwin is heard saying to her.
"I asked you a question!" he then yells at her. "Okay, get the f**k outta here!"
"I did nothing wrong, Alec," the female responds. "You're exaggerating what happened."
Article continues below advertisement
WARNING: THE VIDEO FOOTAGE CONTAINS EXPLICIT LANGUAGE:
radar_embed service=5min.com src="http://pshared.5min.com/Scripts/PlayerSeed.js?sid=1126&width=570&height=351&playList=518014616&sequential=1&shuffle=0"
Alec Baldwin unloads on another Fox 5 reporter
The female reporter is referring to allegations Baldwin made in which he claims the reporter pushed his wife just days before.
In fact, it's Hilaria who fingers the female reporter just moments before Baldwin confronts her saying, "Alec, you see that woman?" pointing, "That's the one that almost hit me."
To see video of Hilaria pointing out the reporter in question, click here.
After chewing out the blonde reporter Baldwin, 55, gets into the car but then jumps out to again to talk to the local police telling them, "I'm going to press charges," as he points at the female reporter who is shielded by an army of photographers.
"See that blonde woman?" he again points. "I want to press charges against her. She's the one I want to press charges against."
Article continues below advertisement
Once the confrontation finally cools off and Baldwin attempts to drive away, he smashes into a silver car parked ahead of him — which belonged to a photographer.
However, the damage was minimal and the photog told the actor not to worry about it.
As RadarOnline.com previously reported, Baldwin clashed with a Fox 5 reporter earlier in the day telling him, "You are as dumb as you look."
Just moments afterward, Baldwin then has a run-in with a photographer who he shoved, smacking his camera out of his hand.
"Hey, you just assaulted me," the man told the agitated actor, who snickered and said, "I assaulted you?"
These explosive incidents come just one day after Baldwin reportedly called a cameraman a "f*g" and a "c*cksucker," though in his defense, he claimed he actually called the person a "fathead" and had no idea the phrase "c*cksucker" could be offensive to gay people.
"Rich Ferraro from @glaad informs me that c'sucker is an anti-gay epithet," Baldwin tweeted. "In which case I apologize and will retire it from my vocabulary. Anti-gay slurs are wrong. They not only offend, but threaten hard fought tolerance of LGBT rights."