Exclusive
Drugs, Vicious Backbiting & Basinger Disses: New Baldwin Family Tell-All Set To Expose The Famed Family's 'Every Secret'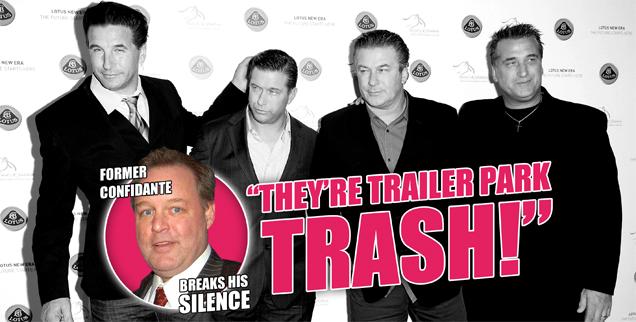 Behind the scenes, the real-life lives of the Baldwin family are every bit as shocking as some of Alec, Daniel, Stephen and Billy's most famous movies.
Now, one of matriarch Carol Baldwin's former confidantes is set to spill their secrets in a shocking new tell-all.
James Edstrom, the author, tells RadarOnline.com exclusively: "The stuff coming out in this book is gonna be a horror."
Edstrom worked closely with Carol as a volunteer for the Carol M. Baldwin Breast Cancer Research Foundation in the 90s and now he and the foundation's former publicist, Ellen Baron, are teaming up to dish the dirt on their former boss.
Article continues below advertisement
"We used to cruise around in Carol's car with her all the time and her mouth never stopped!" Edstrom tells Radar. "She told us every secret of her family."
"Carol told us that she didn't feel Alec was the most talented," he adds. "She thought Stephen was the most talented. She'd say, 'He can sing. He can dance. He can jump around and he can act.'"
Edstrom also claims that Carol frequently bashed Alec's then-wife, Kim Basinger.
"When I saw Kim's Oscar-winning performance in L.A. Confidential with Carol, she spent the whole time during the movie putting down Kim," he says. "But of course Kim won the Oscar."
DOCUMENTS: Read The Baldwin Family's Breast Cancer Charity Tax Filings
Celebrity Rehab drop-out Daniel Baldwin's history of addiction will be covered in the blockbuster book as well, as Edstrom had a front-row seat for his suspected overdose and subsequent hospitalization in 1998. "You all know the history of Daniel," Edstrom says of his battles. "When you read the book, you're gonna understand why he had so many problems."
"This family is not the dynasty that everybody believes that they are," he insists. "They're trailer park trash. And if I'm complaining, there's probably at least 30 or 40 people behind me that feel the same way!"