Alec Baldwin Lashes Out At Tell-All Author: Don't 'Take Down My Family!'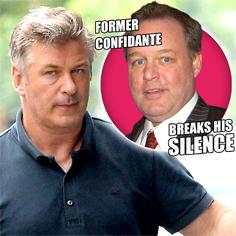 Article continues below advertisement
Alec was quick to hit back in typical form after the news broke. "You'll see what Edstrom is saying is pretty nutty," he told The Post-Standard and syracuse.com. Continuing with the personal attack, he said, "Edstrom is a very strange guy. He has some persistent need to take down my family."
Edstrom has been feuding with the Baldwins ever since 1997, when he sued for $100,000 -- the perceived value of a photo Carol had promised he could take of her four sons and then sell to media outlets.
Alec says Edstrom "claimed that he had contracted my mother for an agreement for that. And what I told my sister was that A, my mother certainly wasn't in any position to contract that for us, and B, back when my brothers … were all working, they were all very busy. It was more difficult to get that picture."
Although some have claimed Edstrom's figure of $100,000 was too high a value for the pic, Alec says, "That picture was worth more. I'm not going to say far more, but that picture was worth more than Edstrom had contended."
Article continues below advertisement
DOCUMENTS: Read The Baldwin Family's Breast Cancer Charity Tax Filings
He continues, "So I said to my mother to tell Edstrom no, you're not going to give him this exclusive photograph of everyone assembled there which he can sell for a lot of money in exchange for him providing services for the Baldwin Foundation Fund. I thought it was a bad agreement and I was the one that dynamited that argument back then."
The case was settled in 2006, and though Edstrom told RadarOnline.com he is not at liberty to discuss the outcome, Alec is still angry that his family reached a settlement. "I found it unacceptable to settle with Edstrom," he says. "They gave him an amount of money. I don't recall what it was."
But despite Alec's apparent hatred for a man who was once Carol Baldwin's closest confidante, he admits that at least one of Edstrom's planned tell-all topics is very likely true.
Regarding Edstrom's assertion that Carol "thought Stephen was the most talented Baldwin brother," Alec said, "I can honestly say that if my mother had said Stephen was the most talented actor in the family, that wouldn't surprise me. Stephen has long been my mother's favorite. The youngest child is very often the favorite."