Exclusive
Baldwin Charity Scandal: Alec's Sister Under Fire For Earning Hundreds Of Thousands Of Dollars From Family's Breast Cancer Charity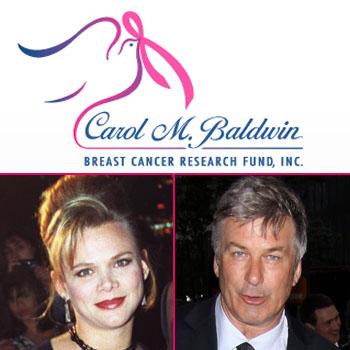 With a combined net worth approaching $100 million, the Baldwin family -- including brothers Alec, Billy, Stephen and Daniel -- are practically royalty.
Their sister, Elizabeth Baldwin-Keuchler, has lived her life outside of the spotlight, but she's still making out pretty well too: In 2009, 2010 and 2011, she pocketed $243,473 in salary and other compensation as the "executive director" of her mother Carol's charity, The Carol M. Baldwin Breast Cancer Research Fund of Central New York, RadarOnline.com has exclusively learned.
Article continues below advertisement
That sum represents more than half of the charity's revenue after other salaries, expenses and donations.
"It angers me that nobody's looked into the expenses of the fund," James Edstrom, Carol Baldwin's former best friend and a volunteer for the Fund in the 90s, tells RadarOnline.com in an exclusive interview.
DOCUMENTS: Read The Baldwin Family's Breast Cancer Charity Tax Filings
"Nobody seems to be outraged that Elizabeth's ... expenses are paid for and she gets a salary out of the fund."
Indeed, tax documents obtained by RadarOnline.com show that between 2009 and 2011, the fund raked in $416,916 in revenue after expenses and shelled out around 58% of that, or $243,473 to Elizabeth as salary.
"The Baldwins like to call them 'stipends,' but no matter what way you say it, you're getting paid," he says.
"You look at a family like that that … and everybody thinks they're doing it for the goodness of their hearts. If you're gonna do a charity and you're a wealthy person, there's no reason to take any money out."
Article continues below advertisement
"It used to outrage me so much the way Carol Baldwin would go collect money at schools where kids would get change out of their lunch money to donate and stuff like that and then see it go to the family," he says. "Where's the justice, when you're on salary and all these expenses are being paid for."
"It really upset me that nobody really seemed to care about where this money was going," he adds, breaking ranks after a bitter falling out.
James sued Carol for $100,000 in the late 90s when she allegedly reneged on getting him a photo of her sons all together at a charity gala to sell to the media. The case was resolved behind closed doors and Edstrom declined to comment on the outcome.
Still, he says, "The family are not nice people. They don't SEEM TO care about people. I THINK They have no kind of humane feelings about people. It's all about them."
The Baldwins' wouldn't be the first celebrity charity to come under fire: Lamar Odom and Khloe Kardashian were accused of raising millions for their cancer charity but donating zero to kid cancer groups https://radaronline.com/exclusives/2013/04/lamar-odom-khloe-kardashian-cathys-kids-cancer-charity-fraud-espn/.