Alec Baldwin Allegedly 'Attacks' A Photographer Outside New York Apartment, Cops Called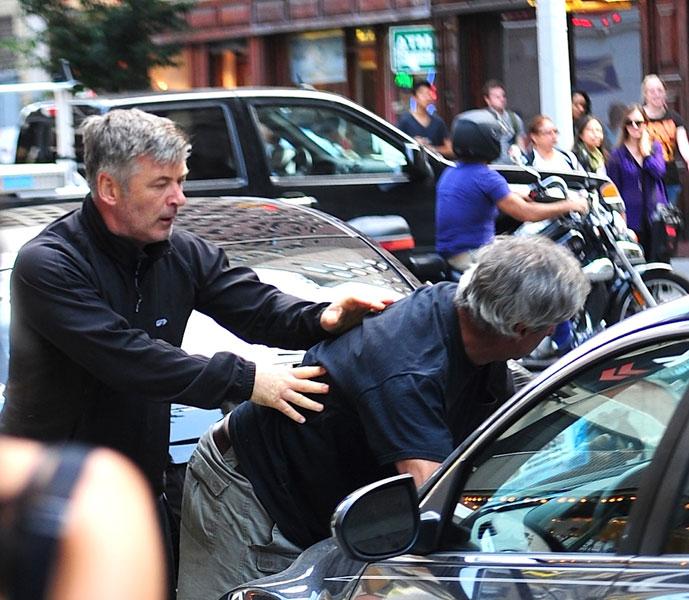 Just four days after his wife gave birth to their baby daughter, Alec Baldwin got involved in an altercation with a paparazzo in New York City.
RadarOnline.com has exclusive learned that both Baldwin, 55, and the photographer, who does not work for RadarOnline.com, called the NYPD on each other to make a complaint.
Cops spoke to both individuals who admitted pushing and shoving each other, however, both declined to press charges.
Article continues below advertisement
The new parents were leaving their apartment in New York's East Village early on Tuesday afternoon when they were confronted by a group of photographers, who had been outside waiting for them.
"Alec and Hilaria were alone, they weren't with the baby," a source told RadarOnline.com.
"They walked outside and the guys were taking their picture and Alec just went after a random photographer.
"He attacked him and so the guy ended up calling the police."
Another source questioned that version of events, suggesting it was the snapper who was the agressor.
"The photographer even continued to harass Hilaria after the incident and forced her into a nearby store to avoid him," the source said.
Regardless, this isn't the first time the 30 Rock star has been involved a fight with the paparazzi; in the summer of 2012 he was in an altercation with a photographer who questioned him about a lawsuit regarding his wife.
"A 'photographer' almost hit me in the face with his camera this morning. #allpaparazzishouldbewaterboarded," he tweeted at the time.