Consciously Snubbing Vogue? Gwyneth Paltrow Will NOT Attend Anna Wintour's MET Gala Ball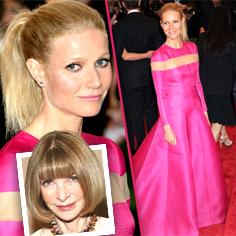 Article continues below advertisement
"Do you want me to be honest? It sucked," she told Australian radio hosts Kylie and Jackie O. "You always think, 'Oh my God, it's gonna be so glamorous and amazing and you're going to see all these people.
"And then you get there and it's so hot and it's so crowded and everyone's pushing you!"
They Really Did Say It! 50 Outrageous Kardashian Quotes
Too important for Anna Wintour's annual gala? Her rep said about the Park Avenue Princess, who flies around in the world on private planes, "Gwyneth will not be in New York and is unable to attend the ball."
Another problem Paltrow had last year was with Kardashian's baby daddy, saying: "Kanye West was playing and he was all furious and he threw his microphone down and it was all drama. I don't know why."
But the blonde soon-to-be-divorced actress is still welcome at the event, with a Vogue rep saying recently: "We're always happy to have Gwyneth attend the Met Gala."
Why do you think Paltrow is passing on the MET Gala? Sound off in comments.