Paul Simon 'Forcibly Grabbed' Edie Brickell, Pair Had 'Other Physical Confrontations,' Police Report Reveals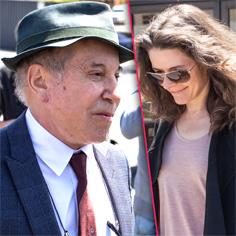 The 9-1-1 call that brought police to singers Paul Simon and Edie Brickell's Connecticut home occurred after "something he had done which broke her heart," the newly released police report states.
Officer Michael McFadden wrote that he approached the house and heard two people "loudly screaming at each other," but was unable to get to the home because of a seven-foot fence topped with barbed wire around the property.
Article continues below advertisement
He said Simon let him onto the property and had blood on his left earlobe. He said the singer told him Brickell had slapped him.
Shocking Stories You Didn't Believe But Turned Out To Be True
She told the officer the slap happened after "he forcibly grabbed her."
They were both arrested for disorderly conduct.
The officer wrote that Brickell "had a strong odor of alcohol on her breath, and she would at times become extremely agitated. She alluded to there being other physical confrontations in the relationship, but she refused to elaborate or answer any questions."
You Can Sue For That? The 53 Wackiest Lawsuits
A second officer, Sgt. Joseph Farenga said the incident occurred in a cottage used as a recording studio on the couple's property.
"When I asked Brickell what happened she stated that she had come to the cottage to confront Simon on something he had done which broke her heart," he wrote.
"She stated that Simon cannot handle being criticized in any manner and became confrontational with her. I asked Brickell if she hit Simon and she stated, 'I didn't hit him,' then went on to say, 'I slapped him in the face.'"
MORE ON:
Celebrity Justice
Article continues below advertisement
The 17 Highest Paid Media Figures On TV
Brickell explained to the officer Simon was "grabbing her wrists," before she slapped him and that showed him "a small bruise on her right wrist but when I later tried to photograph the bruise she refused and stated I could not see it anymore and pulled her sleeve down."
Each faces a single count of disorderly conduct but he told the Judge: "Neither of us has any fear," when he appeared in court on Monday.
Brickell agreed, stating: "He's no threat to me at all."