She Won't Stop! Troubled '16 And Pregnant' Star Danielle Cunningham Brags About Smoking Weed While Children Sleep, Posts Joint Photo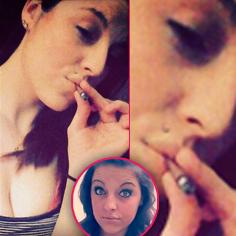 Nearly a year after she live Tweeted an at-home drinking binge while her young children slept, 16 And Pregnant alum Danielle Cunningham is boasting about her bad behavior on social media once again.
The 20-year-old single mother of son Jamie Jr., 3, and daughter Jayleigh, 11 months (with drug-addled ex Jamie Alderman) posted a photo of herself smoking what appears to be a joint on Instagram May 14.
"Lmfao my kids are asleep," she told her followers.
Article continues below advertisement
When fans began questioning her parenting, the fiery Cunningham fought back.
"I WILL HIT A FAT A** BLUNT AND BLOW IT IN YOUR FACE," she said. "Unfollow me uglies!"
The Ohio native, who has confessed to abusing heroin but now claims to be clean, can't seem to stay away from controversy: She attacked Teen Mom 2 star Jenelle Evans on Twitter in 2013, calling the now-pregnant reality star a "lying sack of pig s**t" and a bad mother.
In March, Cunningham consulted Twitter followers for beauty advice.
"HOW CAN YOU GET RID OF A HICKEY IN 4 HOURS?!" she asked. "EWWW. SO UGLY!"