Jenelle Evans Is A 'Lying Sack of Pig (Bleep)' And A Bad Mom, Says '16 And Pregnant' Star Danielle Cunningham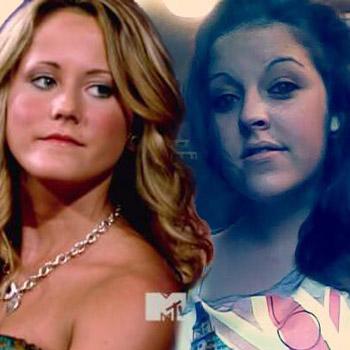 Teen Mom Jenelle Evans is a liar, a bad mom, and her own mother hates her. Those are just some of the claims that 16 and Pregnant star Danielle Cunningham in a vitriolic Twitter rant on Sunday.
It all started when Jenelle tweeted about feeling like people were kicking her when she was down. "You, my dear, have been knocked down for 4 years," Danielle tweeted at Jenelle. "Yo a** never got up!"
"I hate the fact that Jenelle can't be a mother," she wrote. "Just when she feels like it."
Article continues below advertisement
"Does her four-year-old son Jace even call Jenelle mom?" she asked.
And she even claimed Jenelle is a bad daughter too, posting, "lmfao jenelle your mom secretly hates you."
When one follower commented that the posts seemed especially aggressive, Danielle responded: "i gave her many chances. i used to like her. Then i noticed what kind of a lying sack of pig s**t she really is." Danielle did not censor the expletive.
Perhaps most shocking, Danielle insinuated that Jenelle chose heroin over her son, Jace.
"I hate all heroin junkies," Danielle, who claims to be ten months sober from heroin and denies she overdosed in October, wrote. "And I hate junkies that pick drugs over their children. That REALLY erks sic my f*****g nerves."
She then retweeted a post from follower @MrsGoines9185 that said, "uh oh...I smell Chinelle!" and responded, "bahahaha."
Danielle also retweeted the following Tweet from @cierraxcyclone: "@danielle_mtv is proof that you can quit if you actually WANT to. she lived sic her kid enough to quit. Jenelle didn't love Jace enough."
Jenelle maintains that she is sober and working to get back her son.