Cruise-ing Around L.A.! Michelle Williams' Daughter Matilda Plans A Suri Cruise Disguise — As They Move Back To Hollywood!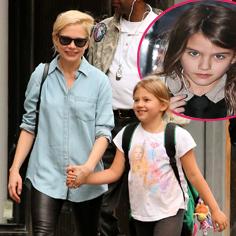 Michelle Williams' adorable daughter Matilda has come up with a novel way to waltz around Tinseltown, RadarOnline.com has exclusively learned.
"Matilda is joking that she's going to impersonate Suri Cruise!" a source said.
The mother-daughter duo is leaving New York and moving back to Los Angeles at year's end so Williams can more easily seek film roles, according to the source. And both are "looking forward to playing games with the paparazzi.
Article continues below advertisement
"They have a set of disguises they use specifically in Los Angeles that makes them completely unrecognizable to photographers and allows them to have long mother-daughter days in complete privacy."
But Matilda, 8, whose father was the tragically dead-too-soon Australian-born star Heath Ledger, has quite a sense of humor about the plan, the source revealed, involving Tom Cruise and Katie Holmes' daughter, Suri.
"Matilda is absolutely loving the game, but one day she made her mother break down in tears of laughter when she emerged from her room in a Suri Cruise lookalike wig and outfit!"
Although Williams, 33, is getting raves for Broadway's Cabaret, she is planning to relocate back to Los Angeles with Matilda soon.
"Michelle's business team sees this as an absolute necessity to ratchet up her box office bona fides.
"Also, L.A. is a good move for Matilda as it's closer to her extended family, Heath's kin in Australia," the source noted.