Exclusive
Watch Out Michelle! Williams' New Boyfriend Has Scary Drug Past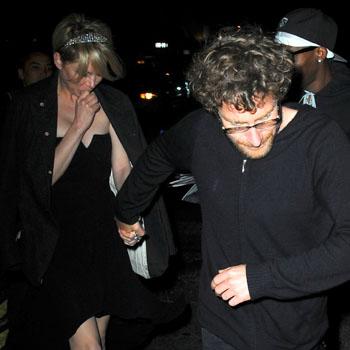 When Michelle Williams was spotted enjoying a sunny day in the park on Monday with her daughter Matilda, 7, and new boyfriend Dustin Yellin, many believed she had found happiness at last. But RadarOnline.com has learned he has connections to the same hard-partying milieu that ultimately proved toxic for her great love, Heath Ledger.
Years ago, when he was just starting out in New York, Yellin was known for hosting wild parties at his loft at 136 10th Avenue. In February, 2000, Bijou Phillips stabbed Yellin in the leg during one out-of-control bash! "We were hanging out with friends," he explained at the time. "People were playing music. She picked up a kitchen knife and started chasing me with it. We were just horsing around, but it went too far. It was a moment of insanity."
Article continues below advertisement
The wound almost proved fatal when Yellin suffered from internal bleeding days after being stitched up in the ER.
Just two months later, Yellin's loft would be the setting for an even grislier scene, however, when banking heir Raphael de Rothschild died of a suspected heroin overdose on the sidewalk out front after partying all night at Yellin's pad.
Yellin was not confirmed to have been at the party, or otherwise connected to the death.