Exclusive
Busy But Bad Matchmaker? Busy Philipps Encouraging Friend Michelle Williams To Have A Romance With Jake Gyllenhaal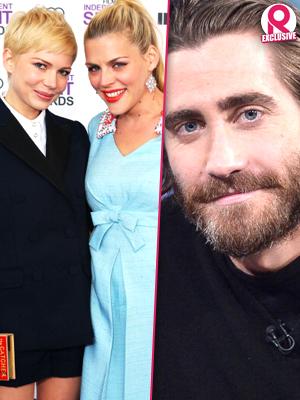 Busy Philipps is "desperate to find a man" for her close friend Michelle Williams — and she's got her eye on the hunky actor Jake Gyllenhaal, a source exclusively told RadarOnline.com.
But she might be doing more harm than good, given Gyllenhaal's playboy past.
As Radar recently reported, Gyllenhaal reportedly dumped singer Taylor Swift after she lost her virginity to him.
Article continues below advertisement
And the 33-year-old actor has never settled down with his other previous loves, including Kirsten Dunst, Natalie Portman, Reese Witherspoon,  Anna Kendrick, and French actress Lea Seydoux.
According to reports, Gyllenhaal broke up with Sports Illustrated model Alyssa Miller earlier this year after dating just six months.
Meanwhile, Williams has never married after having daughter Matilda, now 8, with Heath Ledger, who died of an accidental drug overdose in 2008.
But Busy is getting busy with her plan to match the blonde beauty with Gyllenhaal!
"Busy's been trying to match-make them for a good year now and got her hopes up when she saw how Jake really became a shoulder to cry on for Michelle at their friend Philip Seymour Hoffman's funeral," the source told Radar.
"But despite her efforts, she still hasn't gotten them to go out on a date yet."
Williams and Gyllenhaal have known each other for years, since starring together -- along with Ledger -- in the landmark 2005 drama, Brokeback Mountain.
"Busy is not really taking into account that Jake would have an issue with dating the ex of his late close friend Heath," the source said.
Also, the Cougar Town star obviously isn't thinking about Gyllenhaal's own checkered history with women!
And the insider said Busy is the one who set up Williams with How I Met Your Mother star Jason Segel, "who really broke Michelle's heart" before he turned to Alcoholics Anonymous, Radar sources said