Exclusive
You're Outta There! Charlie Sheen Kicks Denise Richard & Daughters Out Of Their Luxury Home, Sells It To A Friend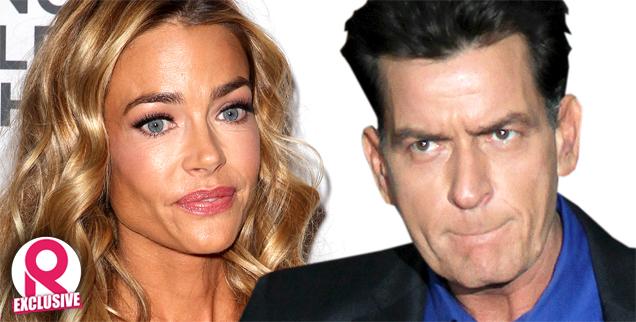 Denise Richards, and her daughters, Sam, 10, Lola, 8, and Eloise, 2, are on the move, RadarOnline.com has learned, since Richards' ex, Charlie Sheen has ordered them to leave the home they have been living in -- and sold it to a friend.
The home, which Sheen had bought for Richards, his daughters Sam and Lola, and Richards' adopted daughter Eloise, featured six bedrooms, nine bathrooms, and 9,000 square feet of luxury living space.
Article continues below advertisement
But now, lawyers for Sheen "have been working with Denise in vacating the premises," a source told RadarOnline.com exclusively. "Charlie has wanted Denise out of the gated community where he also lives for months, and his porn star fiancée, Brett Rossi has been pushing for it too."
Sources previously told RadarOnline.com that the move will be a huge inconvenience for Richards, because her daughters go to school in close proximity to the home.
"Sam and Lola's school is currently less than a five minute drive from the house they are living in now," a source has said.
The former Two and a Half Men star has been locked in a public battle with the former Wild Things star for months, after alleging Richards wouldn't allow him to spend time with their children during the holidays last year.
Sheen had hinted on social media that he would no longer pay Richards as much child support.
Article continues below advertisement
The Wall Street star lashed out at his on Twitter and intimated Richards would take a financial hit — vis a vis a reduction of the $55,000 a month he pays her in support — for allegedly leaving him out of the loop.
He hash-tagged a subsequent tweet, "#TooMuchChild$upport."
And Richards isn't the only target of Sheen's ire lately. Just last week, he lashed out at Rihanna, calling her a "Village idiot" in an rambling Twitter post, after the Barbadian beauty blew off the actor's request for a quick meet-and-greet as they both dined at Giorgio Baldi in Santa Monica on Wednesday evening.
Sheen said he was at dinner with his Rossi and made the request for a meet and greet upon learning the singer was there. (He added that "personally he couldn't pick her out of a line-up at gunpoint.")
The "Diamonds" singer declined Sheen's request, the actor said, by telling them that there were too "many paps outside and it just wasn't possible at this time.
"At this time? AT THIS TIME?? lemme guess, we're to reschedule another random … 11 million to 1 encounter … with her some other night…?" Sheen wrote.
Meanwhile, the drama with Richards is still unfolding. A source said, "Charlie is allowing Denise to stay in the house until the girls finish school in several weeks ... But as soon as they are done with school Charlie wants her out. It's really sad because it just didn't have to come to this."