Exclusive
Tripp Needs His Father!' Bristol Palin & Levi Johnston Custody Fight Erupts As Johnston Takes Her To Court AGAIN In Battle Over Son — READ Their Explosive Secret Texts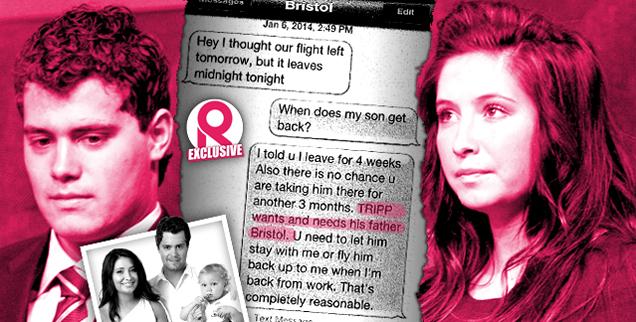 One love child, two breakups and eight years after they first started dating, Bristol Palin and Levi Johnston are still going at it in Wasilla.
RadarOnline.com has exclusively learned that Johnston has dragged Palin back into court in Alaska in a bid to get more time with their five-year-old son, Tripp, and to curb Palin's repeated trips out of state with the boy.
"I was never EVER ok with u taking my son anywhere or putting him on your tv show," Johnston snaps in bitter text messages submitted as evidence in the case, and only RadarOnline.com has all the details.
Article continues below advertisement
According to court documents obtained by RadarOnline.com, Johnston, 24, and Palin, 23, reached a child custody stipulation in August 2010, allowing Johnston to see the child on Saturdays between 9:00 a.m. and 4:00 p.m., and Wednesdays from 12:00 p.m. to 6 p.m. However, the court never approved it, and it never became finalized. The case was dismissed in September 2012 for lack of activity.
All was relatively well until October of last year, when Sarah Palin's daughter moved to Scottsdale, Arizona, for a six-month training program. She took Tripp with her, and Johnston erupted.
READ The Shocking Court Documents In The Battle Over Tripp
On October 19, he opened a new custody case in Alaska — without notifying the court of the other case. He then served Palin with a temporary restraining order prohibiting her from removing their child from the state "without written consent … or permission of the court," the court documents claim." Palin was already living in Arizona at the time, so Johnston filed a motion to show cause for sanctions against her, and for the immediate return of Tripp to Alaska.
Article continues below advertisement
"Levi had been informed of these plans and had not objected," documents filed by her attorney claim. "Bristol returned to Alaska for her school break in December and Levi had Christmas visitation with Tripp." What's more, her attorneys claim that if he had told the court about the couple's stipulation in the other case, the restraining order never would have been issued.
Johnston, however, submitted alleged texts from Palin as evidence that he had not consented to her plans.
"Hey I thought our flight left tomorrow, but it leaves midnight tonight," a supposed text from Palin sent January 6, 2014, reads.
"When does my son get back?" Johnston's response reads. "I told u … There is not chance you are taking him there for another 3 months. TRIPP wants and needs his father, Bristol. U need to let him stay with me or fly him back up to me when I'm back from work. That's completely reasonable."
Article continues below advertisement
"I no sic u trust our sons safe with me and is taken care of so I don't understand why u don't like him with his father," Johnston continued. "If u only new the things he says to me and how happy he is with his dad and little sister. He really needs us both and I need him Bristol."
Johnston has a daughter, Breeze, 18 months, with new wife Sunny Oglesby, and has posted pictures on his facebook page of Tripp hanging with the family.
MORE ON:
Celebrity Justice
Post by Levi Johnston.
Post by Levi Johnston.
"Look Levi, bfeore sunny got involved in this, you were fine with me being in school," Palin snapped back in the alleged text. "Tripp is enrolled in school in AZ and will be back when I'm done with training."
Johnston insisted, "Tripp needs to be in Alaska. We're sic the rest of his family is. How can u be so selfish and no I was never EVER ok with u taking my son anywhere or put on your TV show. It's all crap. He deserves more then sic that. He needs his dad and my family just as much as yours. And more importantly. Tripp needs stability and a routine and sports. And all that. I really hope and pray u put 2 and 2 together one day. It's not right. Or fair to our son."
Article continues below advertisement
"Go ahead and ask him if he want to stay with dad or go with u," he taunted. "Bet he says dad. Just saying Bristol. Tripps old enough to tell u what he wants now."
Johnston also filed an affidavit with the court insisting he filed the new case because he "did not think I had much choice in the matter and I did not know what my alternatives were. She physically had our child and was doing whatever she wanted and there was no active court case. … That was why in part I filed my new custody case because she was just doing whatever she wanted."
And now, he wants more time with his son. Though Palin claims Johnston has not taken full advantage of his visitation rights, his lawyers wrote in court documents that "The limitations of the time Tripp has spent with his father have been precisely because Bristol has placed these limitations on them, and has not been willing to truly facilitate an open and loving relationship; by words and deeds. Plus, just when some consistency would start to develop with Tripp and his father, Bristol at her sole discretion with no consent of Levi, would leave Alaska for months on end …."
Article continues below advertisement
For her part, Palin submitted documents claiming that Johnston owes her $66,8080.57 in child support. Johnston claims that figure is off by nearly $30,000.
A judge previously denied Johnston's petition for equal custody last October, but a new judge will now attempt to get to the bottom of the matter in the new case. The first evidentiary hearing will take place on July 30.
Tripp and Bristol have since returned to Alaska.