Brad Pitt Ambushed, Struck In Face By Ukrainian Reporter With History Of Star-Related Shenanigans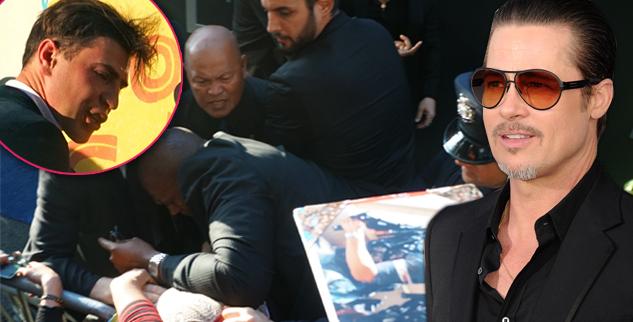 Brad Pitt was struck in the face by a 25-year-old Ukrainian TV reporter at Wednesday night's Maleficent premiere at Hollywood's El Capitan Theatre, resulting in the man's arrest in connection with suspicion of battery, police said.
Security guards controlled Sediuk right after he ambushed the A-lister, who didn't seem too shaken by the encounter, as he continued signed autographs for those who'd showed up for the blue carpet screening.
Article continues below advertisement
Sediuk's also been connected to disconcerting — and physical — run-ins with A-list heartthrobs Leonardo DiCaprio and Bradley Cooper; in all of the aforementioned incidents, event security dragged him away.
Watch the video on RadarOnline.com
Speaking with The Hollywood Reporter last year, Sediuk laughed off his L.A. Live banishment, gloating how he would find a way around the embargo to continue his Tinseltown shenanigans.
"Let's be honest: there are only two major events in L.A. Live: the Emmys and Grammys. I think I can survive not attending those two events. There's so much happening in Los Angeles."