Will Smith: Why I Slapped That Reporter Who Kissed Me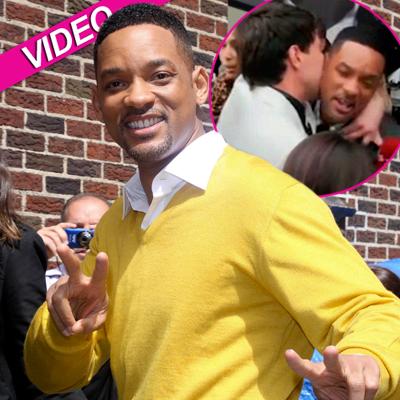 By now, we've all seen the video of Will Smith slapping off a reporter in Russia who tried to kiss him. On The Late Show Tuesday, the Gettin' Jiggy With It singer explained his take on the viral incident that took place on the red crept.
"I didn't beat up a guy!" the Miami singer said. "No, no. I was in Moscow and ... we're doing an interview and he says, 'Man' … he was a reporter and he says, 'I'm your biggest fan, can I have a hug, please?'
Article continues below advertisement
"So I go to give this joker a hug and he tries to lean in to kiss me, you know? And ... it's just awkward, Dave."
Watch the video on RadarOnline.com
Smith said that people with the interviewer later explained to him the impromptu kiss was all part of some elaborate act.
"They were like 'We're sorry, you know, it's just his shtick.' and I said, 'That's why his a** got shtick!'"
Will's new film, Men In Black 3, hits theaters Friday.