Exclusive
Should Brad Be Jealous? Tattoo Artist Who Did Angelina Jolie's Intimate 'Billy Bob' Tat Describes The 'Subtle & Sexy' Inking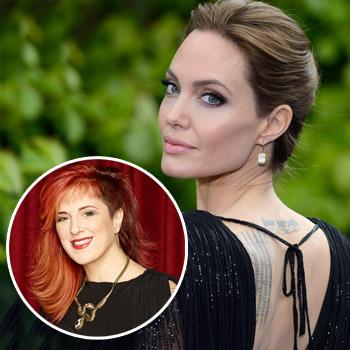 Regrets? Angelina Jolie has had a few — especially when it comes to her collection of body art. Now, famed celebrity tattoo artist Friday Jones is speaking out exclusively to RadarOnline.com about her work on the star, revealing she tried to talk Jolie out of getting a top secret 'Billy Bob Thornton' tattoo on her bikini line back in 2001.
"Angelina was in a stage in her life where she was pushing her envelope romantically. Mind you, the fact that she was tattooed at all was very risqué," Jones exclusively told Radar.
Article continues below advertisement
The Tattoos After Dark star tried to dissuade the actress from inking her body with but couldn't say no to Jolie.
"After two weeks discussing options and repercussions, she opted for a small bikini-line job in a technique called a "wash," which is quite subtle and sexy and happily easy to remove because it only includes 50% black ink," Jones revealed.
Jones went to Jolie's Hollywood Hills home and worked, all while Jolie posed for a photo shoot!
"We did the deed during a photo shoot and it was an experience of a lifetime. Angie is a great girl, a lot of fun to be around and easy with just hanging out. She's razor sharp," she said.
Following her split from Thornton in 2003, Jolie would undergo laser removal to get rid of both the bikini line tat and an upper arm image that bared her ex's name. To date, Jolie has more than a dozen tattoos, including the geographical coordinates of where her six children were born, and a tiger tattoo on her lower back.
Article continues below advertisement
In addition to Jolie, Jones has a long list of celebrity clientele, and out of all of them, she say that British singer Robbie Williams was her most expensive.
"Robbie Williams paid a lot for his lower back tattoo," she said, keeping the monetary amount a secret due to confidentiality agreements.
"It's the actual music sheet from The Beatles' 'All You Need Is Love,' so I had to do an extremely linear image -- read: long, straight-a** lines -- across his heavily muscled rear-end," she said.
The ink was done on a sofa at the Sunset Marquis, which she claims is an "extremely difficult feat to pull-off even in a studio."
"Good thing he sits so well or else I would've had to charge even more!" she joked.
Catch Friday Jones on Tattoos After Dark Tuesday nights at 10/9c on Oxygen.