'16 And Pregnant' Season 5 Drama! MTV Star Summer Rewis Catches Husband Cheating— Then Assaults His Mistress!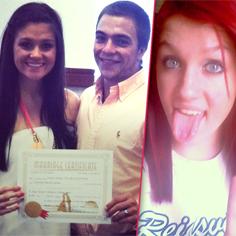 It's been a tough week for 16 and Pregnant star Summer Rewis.
Last week, the high school junior— who will appear on the May 12 episode of the MTV hit docuseries — returned to the Georgia home she shares with her 18-year-old husband and baby daddy, DJ Rewis, and caught him with another woman!
"I walked in and he had another b***h in my house," the mother of 6-month-old son Peyton Daniel told fans on her Ask.fm page.
Article continues below advertisement
Upon catching DJ with Makala Peters in the couple's bed, the reality star said she attacked the woman.
"Don't worry, I whipped her a**," Summer boasted. "I got on that b***h and rocked her damn head."
"She looked like she seen a damn ghost," the teen continued. "Don't worry, I got mine! She probably thinks I'm the most psychotic person she's ever seen."
But Summer won't become another statistic just yet: Though she initially contemplated divorce, the star eventually said she and DJ were "gonna try to work things out."
"Hopefully things will be okay," she posted May 5. "People may think I'm stupid for going back."
"He done it because he thought I was doing it," she explained. "He made a mistake. It's not easy for me to let it go and I still haven't, but we're trying."
Despite the alleged physical altercation, RadarOnline.com can confirm that Peters did not file any complaints with the local sheriff's department or police against Summer.
Though she's patching things up with her wayward husband, Summer suffers from other family heartbreak: In a preview for her upcoming episode, the teen accuses her mother of being under the influence of drugs.