9021-Opiates? Tori Spelling Pal Reveals She's Abusing Vicodin & Oxycodone -- 'Mixing Pills With Alcohol To Cope' With Marriage Breakdown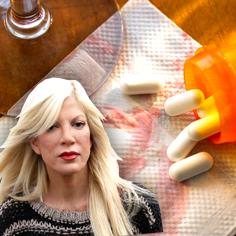 Tori Spelling's no so innocent after all.
The reality star — who's in the limelight for her show True Tori, which will show her trying to salvage her marriage in the wake of husband Dean McDermott's admitted cheating and subsequent stint in rehab — has been abusing powerful painkillers, according to a Spelling insider.
"I have seen huge bottles of Vicodin and Oxycodone while I was visiting her," the friend told STAR magazine, delving into detail as to how deep the reality star is into the Opiate-based medication.
Article continues below advertisement
"Once I saw her at lunch, popping Vicodin with wine — which you shouldn't do; once she offered me a Vicodin when we were all out to dinner and when I passed, she offered me a Norco that was even stronger than the Vicodin!"
The source -- who passed a lie detector to prove their claims -- said that Spelling claims she takes the drugs to handle her migraines, but pointed out that her behavior doesn't square with that approach.
"Nobody who has a migraine wants to go out for drinks and dinner with friends," the insider said.
Another reason Spelling pops the pills is as an appetite suppressant, so she can keep around her desired personal weight of 98 pounds.
"They kill her appetite," the insider said. "She thinks a visible rib cage is sexy."
For much more on this story, including a look at Spelling's parenting issues and how she is "mixing pills and alcohol to cope," pick up this week's edition of STAR on newsstands everywhere.