Quid Pro Perv? Model Claims Terry Richardson Tried To Dangle 'Vogue' Spot Over Her Head For Sex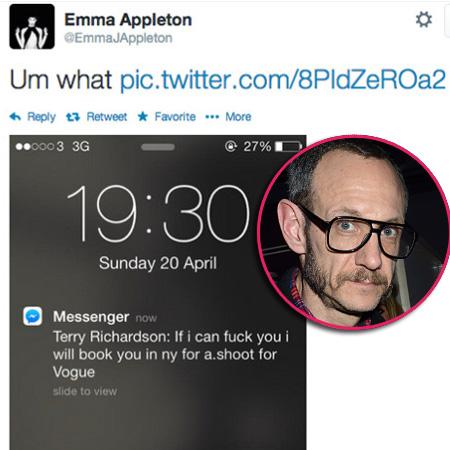 Terry Richardson has denied the last round of accusations of sexual harassment and casting couch procedures levied against him, this time from British model Emma Appleton, who claimed that the famed photographer propositioned her, dangling a career-making pictorial in Vogue over her head as an incentive for sleeping with him.
Appleton initially posted a screen grab from her Twitter account of a Facebook message she claimed the 48-year-old sent her, in which he said, "If I can f*ck you I will book you in New York for a photoshoot for Vogue."
Article continues below advertisement
She said that she responded, "No, I'm not your girl, bye ha."
Richardson rep Candice Marks said the screenshot was "obviously a fake," and that the photographer — who's worked with Miley Cyrus, Kim Kardashian, Kate Upton and Lady Gaga, among others — "did not send this text."
Appleton later deleted the screengrab, claiming she didn't desire any of the "abuse or attention" that comes with being involved in a celebrity controversy.The model tweeted regarding the alleged incident, according to Gothamist, "I've been modeling for 5 years and I've never had this before, it doesn't make it okay." (She later deleted the account.)
Vogue's Hildy Kuryk told Buzzfeed the magazine has "no plans to work with him in the future," not specifying whether the plans were tied to Appleton's complaints. The disconcerting accusation is hardly the first raised against the enigmatic talent, as models such as Jamie Peck, Liskula Cohen, and Rie Rasmussen have stepped forwarded with similar tales of regarding their interactions with Richardson.
As we previously reported, Richardson addressed his accusers in a letter to the Huffington Post last month, calling their recollections "false, hate-filled and libelous tales" as part of a "witch hunt."
The New York native stressed he'd "used an offer of work or a threat of rebuke to coerce someone into something that they did not want to do."
Keep it right here on RadarOnline.com for more news about Terry Richardson.