She Is 'The Wind Beneath My Wings': Robin Roberts Opens Up About 'Phenomenal,' 'Beautiful' Girlfriend Of Ten Years In Revealing New Tell-All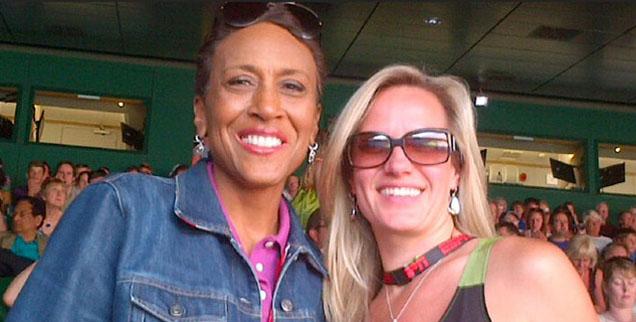 The world was stunned when Robin Roberts came out last December — and even more surprised to learn that she had managed to keep her secret girlfriend, Amber Laign, a secret from the public for nearly ten years. "Some people like their anonymity!" Roberts, has explained. But now, she's opening up about the woman she calls "the wind beneath my wings" like never before in her new book, Everybody's Got Something, and only RadarOnline.com has all the details.
Article continues below advertisement
Roberts and Laign have "been together for nearly a decade," she reveals in the intimate memoir. "Mutual friends set us up on a blind date. I liked the fact that she had no idea who I was. She rarely followed sports, so she never saw me on ESPN, and her office mates at the time watched a different morning show … ouch!"
Roberts continues, "She's originally from Northern California and is extremely laid-back, no drama, no fuss. The main thing we have in common is positive energy. She sees the good in everyone."
Homebodies by nature, Roberts and the licensed massage therapist prefer to spend time relaxing at home or on vacation in their favorite getaway spot, Key West.
"Usually when we land, we hop in our rented convertible, cruise Duval Street and then stop at the gas station and pick up Dion's grid chicken," Roberts reveals. Or, they tool around on their coordinating beach cruisers, she writes: "Mine is orange, Amber's is white, but they both have sweet and cheesy floral baskets."
MORE ON:
Good Morning America
Article continues below advertisement
"We can position the television in our house so we can watch it from the pool," she writes, noting that they love to watch college basketball together. "It's perfect."
That perfect life has been rocked by the Good Morning America host's health struggles, with a breast cancer diagnosis in 2007, and fight with a rare blood disorder five years after that.
But Laign has been "with me every step of the way," she reveals whether climbing in her hospital bed to cuddle, taking "meticulous notes" at appointments, "rallying friends to lift my spirits," or acting as "gatekeeper and caregiver."
Roberts writes, "I know how lucky I am to have Amber in my life!"
But she's not in her life 24/7 — since the couple still keep separate apartments!
"Amber and I have been a loving couple for almost ten years now, but we choose not to live together," she admits, joking, "Maybe that's why we've lasted almost a decade!"
Turning serious, she ends the book with a post-script note to the love of her life:
"Amber, thank you for giving me your blessing to share what you mean to me and my family. You shy away from the spotlight, but I'm proud that many now know what I've always known … You are a phenomenal, beautiful woman in every way. Bless you for selflessly being the wind beneath my wings."