Exclusive
Alleged Victim Pleads With The Duggars To Stop Supporting Ministry Where Founder Was Accused Of Sexually Harassing More Than 35 Women — Read Her Open Letter!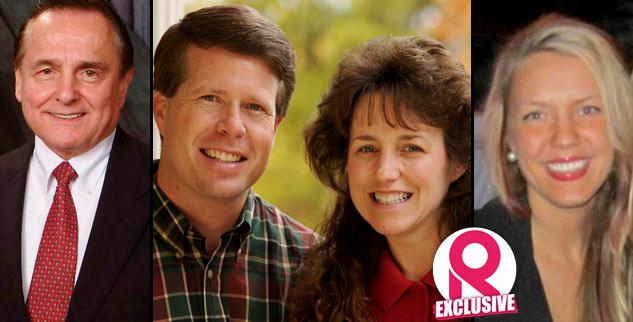 After allegations poured in from more than 35 young women claiming sexual harassment from the Institutes for Basic Life Principles founder Bill Gothard, he resigned — but the Duggar family continues to support the ministry and is even planning on attending the annual conference in Texas in April.
One of the young ladies who stepped forward with allegations against Gothard is Megan Lind, who met him in 1991 when she was just 11-years-old, and she's now given RadarOnline.com an exclusive interview and an open letter to the Duggar family in which she pleads with them to reconsider their involvement in the group.
Article continues below advertisement
Lind tells RadarOnline.com that she had frequent meetings with Gothard throughout her teenage years and finally left the founder's Advanced Training Institute in 2001.
Described by Lind as "predatory in nature," Gothard, 79, was forced into resignation last month after the whistle blowing website Recovering Grace claimed to have more than 35 young women and teenagers alleging he sexually harassed them.
Lind, now 34-years-old, wrote the following open letter to Jim Bob and Michelle Duggar in hopes that they will leave Gothard's teachings for the sake of their 19 children.
Dear Duggars,
I speak from the perspective of one who experienced firsthand sexual harassment that parallels the personal stories told on the whistleblower website, Recovering Grace. Those stories were written by girls who worked closely with Bill Gothard, who is the founder of ATI, the homeschool curriculum and training convention your family uses and attends every year. I hope that this open letter will be heard from the heart by your family and the many others who are questioning your continued involvement with this group. Today, I am a married mother of two. My objective is to convey to you as a parent the concern I have for children being brought up in the authoritarian lifestyle espoused by Gothard.
Article continues below advertisement
My involvement in ATI set the stage for the unwanted sexual attention that I experienced at the hands of Bill Gothard. His teachings requiring unquestioning obedience by children that were taught to me by my parents, which they gained through their training via Bill Gothard's enormously popular Basic Seminars in the early 70s. When I was a teen, I was sent to volunteer for Gothard at his seminars and training centers. Gothard paid special attention to me, and often asked me to travel in his personal van from center to center. When he was in town, Gothard would periodically request my presence in his office for long hours and late into the night for the purpose of counseling. His behavior toward me was what I would now define as predatory in nature, although at the time because of my over-protected upbringing, I was merely confused and uncomfortable. Bill would sit or stand close to me, stroke my back or my arm, and rub his hand along my leg, as he would tell me that he believed God had brought me to his ministry for a purpose. Even though Gothard taught firmly in his seminars and materials that an unmarried man should not touch a woman in this way, Gothard did so regularly with me and other girls I knew at the time.
Gothard's followers are astoundingly loyal, even to the detriment of the victim. This may be why personal attempts to address the issues within the ATI movement have fallen on deaf ears until the recent public disclosures on the Recovering Grace website. Once, I went to Gothard's leadership to express my discomfort with his attentions, and was severely disciplined for my efforts by being confined to my room for weeks, even for meals. At the end of my confinement, I was once again summoned to his office, and I did not complain again. This disciplinary structure pervaded his entire ministry at varying levels, and I believe that it was a direct result of his teachings.
Article continues below advertisement
Mr. and Mrs. Duggar, I believe that your family has a sincere desire to live your life for the glory of God, and that you desire the best possible upbringing for your children. However, I also know that the lifestyle you have chosen for your children is more dangerous to them than it is protective of them. I am aware that you list ATI as your homeschool affiliation on your public website. I also know that your family takes a prominent role in the annual homeschool seminars ATI hosts for its families. I appeal to you to reconsider your involvement with this group. Some may suggest that Gothard's inappropriate behaviors over the past forty years which have been carefully documented on recoveringgrace.org are personal to Gothard, and should not be attributed to his teachings or to his followers, who include your family. I do believe that Gothard saw himself as above his own rules. However, I also believe that the authority structure that he designed for his followers created the opposite of its stated intention: the so-called protections designed for women and children which includes removing the right to say "no" to a person in authority has the effect of setting these same women and children up for abuse from within. I know; it happened to me.
Sincerely,
Megan Lind
As RadarOnline.com previously reported, the Duggar family continued to support Gothard's ministries — even after his resignation — on their website and are scheduled to attend the Big Sandy ATI Convention later this month.
Lind is hoping her brave act of coming forward with her own account of what happened might help the Duggars take a public stance against Gothard and all of his ministries.
Article continues below advertisement
"I moved away from my parents and everything ATI after the verbal and physical sexual things from Bill in 2001. I moved to Northern California and enrolled myself into college," Lind told RadarOnline.com.
"I am now married to the greatest guy in the world and have a 3-year-old and a 4-year-old. I love them and my little life so much."
Gothard has never publicly addressed the allegations and an email from ATI's Administrative Director told their community that the organization had been "counseled to refrain from saying anything publicly."
However, when Gothard resigned ATI released the following statement: "To give his full attention to this objective, Mr. Gothard has resigned as president of the Institutes in Basic Life Principles, its Board of Directors, and its affiliated entities."
The 19 Kids and Counting stars had another of the conservative Christian organizations they're involved in come under fire last year too, when Doug Phillips, the head of Vision Forum Ministries, confessed to having an extramarital affair and the group announced that because of his "serious sins" they closed their doors.