Exclusive
Bravo, Lilo! Lindsay Lohan Attempts To Broker Peace Deal In 'RHONY' Star Jill Zarin's Feud With Andy Cohen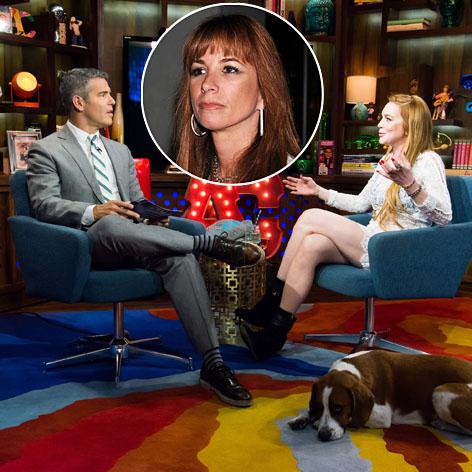 Article continues below advertisement
"Lindsay's mom, Dina and Jill have been friends for a very long time," an insider told RadarOnline.com. "Jill has been a very close family friend to the Lohans for years. Lindsay had an opportunity to talk to Andy Cohen off camera about what a great person she thinks Jill is, and the raw deal she got after leaving Real Housewives of New York. Lindsay is a big fan of RHONY, and really wants her mom to be on the show, and thinks Andy should push Bravo executives to bring Jill back as well."
"Lindsay would love to see Andy and Jill break bread, and make up," the source continued. "With the current season of RHONY tanking in the ratings, Jill and Dina could definitely add the buzz the show is lacking! Dina has wanted to appear on the Bravo New York housewives franchise even before it aired...but she was passed over."
The source revealed, "Andy seemed receptive to Lindsay's comments. Who knows, time will tell."
Article continues below advertisement
At least part of that conversation made it to the air. Shortly before before the episode ended, Lohan suggested to Cohen that Dina should join The Real Housewives of New York City.
"I have to say something!" Lohan quipped. "Jill Zarin has a message for you — she said she and my mom should do the New York housewives to bring the ratings back up again."
Cohen said, "Oh, my Lord! That would be quite a show."
After Lohan made the on-air mention of Zarin's name, it even began trending on Twitter!
Countered another insider, "Whether you love or hate Jill, she gets a reaction from fans of the show. It would be really stupid of Bravo to just ignore that."
The Real Housewives of New York certainly could use the buzz because according to BravoRatings.com, the show's "sixth season is now in free fall, even when compared with the disastrous ratings that Season 5 achieved."
Article continues below advertisement
As RadarOnline.com has reported, Cohen had tried and failed to convince erstwhile talk show host, Bethenny Frankel.
Even though Cohen is no longer an executive at Bravo, "honchos at the network asked him to reach out to Bethenny and ask her if she would be open to making a return to RHONY," an insider said. "The hope was she would come back as a regular cast member, but Bethenny was also offered a guest role. Andy no longer has the power to hire or fire anyone at Bravo, since he lost his executive job, but the bosses knew how much Bethenny respects and likes him" and thought he could convince her.
Unfortunately for Bravo, "Bethenny didn't even take time to think it over before saying no ," the source revealed. "She has absolutely no plans at this time to return to reality television. She believes she has moved on from that."
Sound off in the comment section below, do you want to see Jill Zarin and Dina Lohan on RHONY?