Exclusive
'RHONY' Rejected! Bethenny Frankel Refuses To Return To The Show That Made Her Famous – Despite Personal Request From Andy Cohen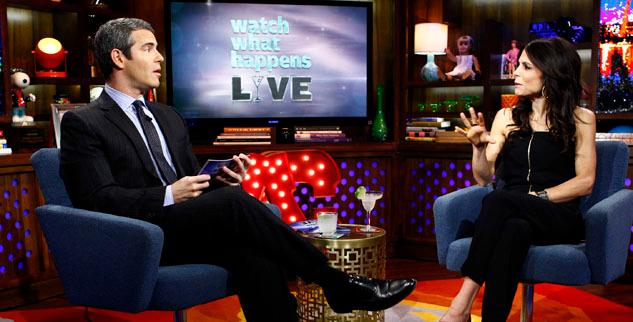 Skinnygirl in the city? Not a chance. RadarOnline.com has learned that Bravo exec Andy Cohen recently asked Bethenny Frankel to return to the ratings-challenged Real Housewives of New York. But despite the fact that he was the one who gave Frankel her big break years ago, a source says she turned him down flat!
Even though Cohen is no longer an executive at Bravo, "honchos at the network asked him to reach out to Bethenny and ask her if she would be open to making a return to RHONY," an insider tells Radar. "The hope was she would come back as a regular cast member, but Bethenny was also offered a guest role. Andy no longer has the power to hire or fire anyone at Bravo, since he lost his executive job, but the bosses knew how much Bethenny respects and likes him" and thought he could convince her.
Article continues below advertisement
Unfortunately for Bravo, "Bethenny didn't even take time to think it over before saying no ," the source reveals. "She has absolutely no plans at this time to return to reality television. She believes she has moved on from that."
However, the source notes, "She would love to appear on television again in a different capacity, perhaps even as a fill-in host for Andy on Watch What Happens Live."
Bravo execs could hardly have been surprised by her response. Recently, Frankel likened memories of her experience on RHONY to "flashbacks from Vietnam" during an appearance at the Penn State Milton S. Hershey Medical Center's Seasons of Health event.
"I failed as a talk show host," Frankel told the crowd.
The 43-year-old, who has previously admitted to feeling edited and diluted on the talk show, left her future on the boob tube ambiguous.
"I like to be free," she said. "I don't plan on what I'm going to say."
Although the Skinnygirl mogul has made a name for herself and her brand, Frankel admitted that her ride to the top has been riddled with roadblocks and bumps. "I have had so many disasters, so many failures, so many low points," she told the audience, adding that "no amount of money can heal pain, suffering and loss."
Article continues below advertisement
The former reality star, who is entangled in a bitter divorce from her estranged husband Jason Hoppy, also claimed she doesn't like being famous.
"I don't know if I want to be famous anymore," she confessed to the crowd. "But I will continue to pursue it."
And with Frankel's taste for fame in mind, producers of RHONY will "definitely be approaching her again" about returning to the show, the source reveals. "It might have been to soon after the cancellation of her talk show to make the offer. The show would tremendously benefit from having her back."
Indeed, according to BravoRatings.com the show's "sixth season is now in free fall, even when compared with the disastrous ratings that Season 5 achieved."
Do you think Frankel should return to the show that made her famous? Why or why not? Let us know in the comments!