Exclusive
Did Lindsay Lohan FAKE Pregnancy? Suspicious Friends Fear 'Secret' Miscarriage Was Fictitious Storyline To 'Garner Sympathy & Explain Unprofessional Behavior' On Reality Show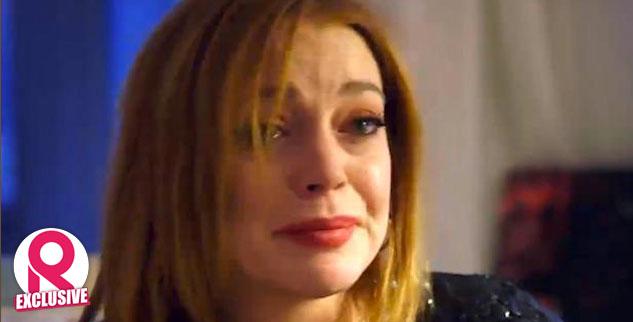 Lindsay Lohan shocked viewers on the final episode of her self-titled reality show when the troubled actress revealed she had suffered a miscarriage. It was a dramatic moment that capped the controversial series on Oprah Winfrey's OWN network, but was it reality?
Two separate sources, both of whom are close to the actress, told RadarOnline.com that they believe the Mean Girls star, 27, was never pregnant and concocted the tale to garner sympathy and as a means to explain her unprofessional behavior repeatedly documented on the eight-part series.
Article continues below advertisement
"She absolutely made it up," said one source.
"Lindsay was never pregnant during filming the reality show for OWN, or in the months after. Lindsay knew she was being perceived as a total slacker, not showing up on time for photo shoots, call times and refusing to shoot. So this is what Lindsay does. She lies! Her family and friends had no clue about her 'pregnancy' and subsequent miscarriage. Lindsay is once again her own worst enemy."
Revealed a second Lohan insider: "Lindsay has continued to smoke through-out this entire series and has admitted to relapsing and drinking alcohol. Don't forget there have been multiple media reports that she fell off the wagon months ago. Quite simply, Lindsay never acted like someone who was pregnant. It's just sad that anything that comes out of her mouth is considered to be a lie."
At the end of Sunday night's two-hour Easter broadcast, viewers saw serial rehabbed Lohan tell the cameras about her experience making the show.
Article continues below advertisement
While Lohan came across on TV as unprofessional, she suddenly confessed, "No one knows this — and we can finish filming the show after this — I had a miscarriage for those two weeks that I took off."
"It's a very long story," she added, as the director expressed how sorry she was. "That's why when it says on the show she doesn't want to come down, it was really because I couldn't move. I was sick. Mentally, that messes with you."
At the end of the show, a tearful Lohan said, "There are drugs that people have said I've done that I've never touched and I know people that have done that and I've tried to help a lot of people to get away from that sh**. I'm not your typical addict. I know the difference between right and wrong."
Lohan's rep didn't immediately respond to Radar's request for comment.