Career Lo-Light? Lindsay Lohan Hosts Boozy Viewing Party For OWN Reality Show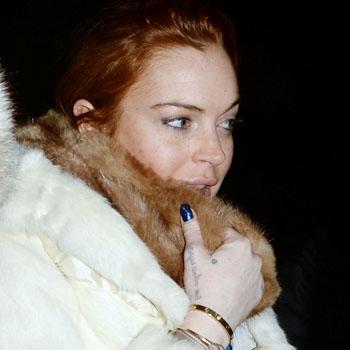 Just four days before telling David Letterman she was clean and sober, Lindsay Lohan was reportedly drunk as a skunk at a viewing party for her sobriety-focused reality show.
On April 6, the troubled actress, 27, decided to watch her self-titled OWN show with a group of friends — and alcoholic beverages — at New York's Gramercy Park Hotel.
"Lindsay was laughing at herself and having drinks," an eyewitness tells magazine in the latest issue. "When she stepped inside the elevator, she reeked of booze and could barely stand!"
Article continues below advertisement
And the star — who recently admitted to relapsing on her show — didn't seem too worried about covering up her boozy behavior. "She was walking in a zigzag, and everyone in the lobby was staring," adds the insider. "She was definitely not sober."
Indeed, by all indications the party is still in full swing for sobriety-challenged Lohan: the six-time rehab alum was reportedly caught with drinks in hand during the Coachella Film Festival in Indio, California on April 12 as well.
For more on Lohan's boozy viewing party, pick up the latest issue of Star, on stands Thursday!