'Get The F**k Away From Us!': Male Model Behind Kourtney Paternity Hoax Faces The Wrath Of Scott Disick, Khloé Kardashian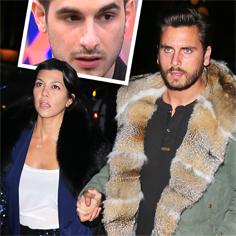 Article continues below advertisement
"He was so angry," the onlooker said, adding that their fiercely family-loyal Khloé opened a mouth to Girgenti, who claimed he'd bedded her sister after a photo shoot.
"She started yelling at him," the eyewitness recalled. "She was like, 'Get the f*ck away from us, why the f*ck are you here?'
"It looked like a fight was going to break out any second."
Club security, noting the mercurial element Girgenti's cameo created, quickly split up the two parties, and the reality stars left with Khloe's new love interest French Montana in tow.
According to the first family of reality TV, Disick was confirmed as the boy's dad via a paternity test, while Girgenti later failed a lie detector test in claiming that he ever even slept with Kourtney.