Exclusive
It's Over … Again! Johnny Weir & Victor Voronov Call Off Reconciliation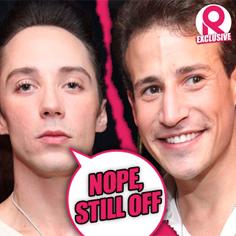 In what could be the shortest reconciliation in recent memory, RadarOnline.com has exclusively learned that Olympic figure skater Johnny Weir and estranged husband Victor Voronov have called it quits yet again mere hours after announcing they shelving their divorce. This time, an insider tells Radar, Weir's meddling mother is to blame.
"Johnny and Victor are once again broken up, and it's because of Johnny's mom interfering," a source tells Radar. "Victor thinks Johnny's mother has too much control of him, and has treated him like a second class citizen."
Article continues below advertisement
"Johnny never defends Victor to his mother, and it has just gotten out of control in the brief time the couple was broken up," the insider continues. "According to Victor, there can't be three people in the marriage. For now, the two are again at war with each other, with plans for the divorce to proceed."
However, the source admits, "with these two anything is possible!"
As part of his briefly revived marriage to husband Voronov Weir had presented a number of conditions for his partner to agree to before they could be a pair of happy husbands once again.
The three-time U.S. national champion, in a postnuptial agreement, demanded Voronov follow below-the-belt rules, literally, as he stipulated his husband refrain from any sort of sexual contact (including mutual masturbation), kissing, flirting or sexting with another person; and staying off online or mobile outlets that could lead to infidelity, such as the popular hook-up app Grindr or any social media.
Article continues below advertisement
Voronov would need to burn his little black book as well, if he has one, as the document prohibited getting "in close range or contact with someone from our past or someone to be part of the future."
Hammering home the point, Weir stipulated that he and his husband must get joint STD tests twice a year, with the results being released to both of them directly.
Voronov, however, would be barred from giving Weir any ultimatums of his own, as Weir cited in the papers one instance in which Voronov demanded "a free f*** of anyone I want."
Our source also revealed that Johnny and Victor "don't trust each other. … There is a lot of love there, but it's a crazy with feelings of obsession and jealousy which is never good for any relationship. They can't seem to stay away from each other, but at the same time, are miserable together. Time will only tell how this ends up."