New Wedding On The Block! Jenny McCarthy Engaged To Donnie Wahlberg With Giant Yellow Sapphire Ring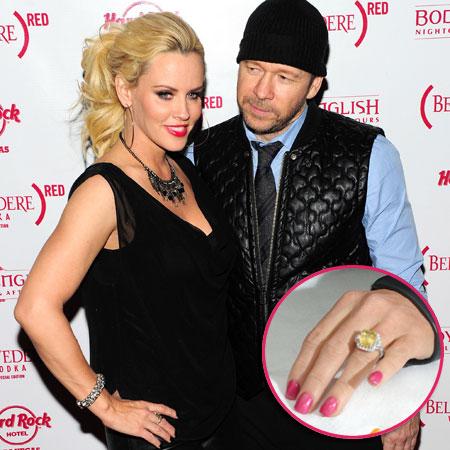 It is a match made in pop culture heaven! Jenny McCarthy announced that her boyfriend Donnie Wahlberg proposed with a giant yellow sapphire engagement ring and she said yes!
The View host, 41, and her boy-band boyfriend, 44, have been dating about a year and she announced her good news Wednesday morning on the show.
"I just got engaged!" the star said about her good news, revealing her sparkling ring, and then telling about the emotional proposal.
Article continues below advertisement
Tearing up, McCarthy said her son Evan was there for the surprise proposal over the weekend and she was spotted showing off the giant engagement bling with a Sally Hansen manicure in New York City.
The New Kids on the Block singer appeared on the set and shared a smooch with his fiancée.
Congratulations to Jenny and Donnie!