Exclusive
Jenny McCarthy's Boyfriend Donnie Wahlberg Outraged She's 'Carrey-ing On' Friendship With Ex Jim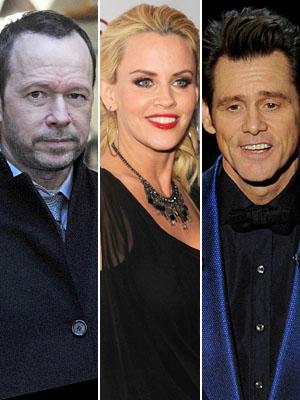 Jenny McCarthy's boyfriend Donnie Wahlberg is outraged she's "carrey-ing on" a friendship with her ex-boyfriend, Jim Carrey, a source has told RadarOnline.com.
Recently, The View co-hostess, 41, shocked co-stars and fans by revealing on the show, "Jim and I have become friends now since our breakup."
And the continued relationship has Wahlberg, 44, seeing red!
"She and Jim talk all the time and have become extremely close friends, to Donnie's annoyance," the source said.
Article continues below advertisement
"Jenny and Jim are always on the phone talking and it's starting to bug Donnie. Jenny pretty much dismisses his irritation, but it's putting things on dangerous ground."
Following her marriage to director John Mallory Asher, with whom she had an autistic son, Evan, McCarthy was with funnyman Carrey, 52, from 2005 to 2010.
The blonde beauty, who has gone from Playboy fame to The View, has dated Wahlberg since July 2013.
Now her frequent contact with her ex-beau is making Blue Bloods actor Wahlberg uneasy, the source said.
"He knows Jim has a hold over her and he's not happy about this renewed contact. Donnie is very paranoid about Jim trying to win her back and is under no illusion that he has the charms to do it," the source said.