Exclusive
Leno Back On Late Night? Why There's A Chance Jay Could Be THE ONE To Replace Retiring Dave Letterman!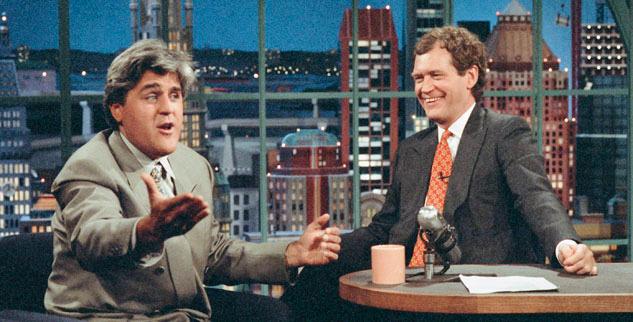 Dave Letterman's announcement that he would leave the Late Show in 2015 stunned the world, but the identity of his replacement could be even more shocking! RadarOnline.com has learned that Letterman's ultimate rival Jay Leno has a chance to fill his spot -- at least as far as Vegas oddsmakers are concerned!
According to the Bovada sports book, Leno's odds to take over Letterman's desk are currently at 50:1. That's a much slimmer chance than they see for Stephen Colbert, who they have at 3:1, Craig Ferguson, at 7:2, or Chelsea Handler and Conan O'Brien at 6:1. But at least he made the list, unlike would-be talk show divas Kris Jenner and Bethenny Frankel!
Article continues below advertisement
In any case, if fans have their say, it'll be Leno who emerges victorious. Leno lovers took to Twitter after Letterman's announcement to air their hopes for the ousted late night host's return.
"As much as I like Leno's replacement Jimmy Fallon, I still miss Jay," user @androszhane wrote in a post suggesting he take Letterman's slot.
Another user, @HipHop_247 chimed in, "Jay Leno will steal the job!"
And @Cardabunga wrote, "Look for Leno to replace Letterman. Jay does not know the meaning of retirement!"
Indeed, when Leno bowed out of The Tonight Show for the last time in February, he didn't quite seem ready to ride off into the sunset in one of his custom classic cars, insisting he'd stay busy with stand-up gigs.
"I've got a bunch of one-nighters," he said at the time. "I like doing stand-up … that's fun."
And after running NBC's flagship late night show for 22 years, it seemed he was happy with that gig as well.
Another return to late night in Letterman's chair would be the ultimate irony, since he and his rival feuded for years.
Would you welcome Leno back on TV? Why or why not? Let us know in the comments!