Exclusive
Move Over, Brit: Comedienne Chelsea Handler Could Be Headed To Vegas In Stage Show Featuring Her Famous FRIENDS!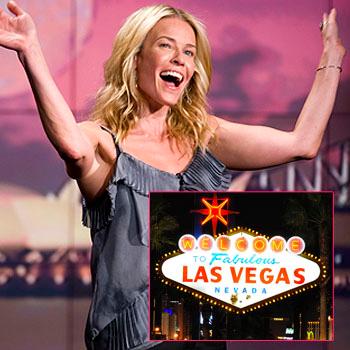 Chelsea Handler is plotting a Las Vegas stand-up act that might feature her A-list friends like Jennifer Aniston in a female answer to the Rat Pack!
And it could mean a whopping multi-million payday for the successful talk show host .
That's what RadarOnline.com has learned, as a source explained the E! host is "fielding her first major long-term offers from Vegas casinos. Instead of making a movie or a TV pilot, this could be her vehicle to rake in a huge amount of money.
Article continues below advertisement
"Chelsea could earn more in a ten-week Vegas run than she does in 40 weeks on her talk show. She could easily be able to play Vegas during her down time from E!" the source added.
According to insiders, veteran stand-up comedy legends such as Jerry Seinfeld and Jay Leno, who know the Vegas ropes well, have already told her who the fair dealers are in Sin City.
The source said Handler's Vegas act could emerge as a female Rat Pack akin to the old Frank Sinatra, Dean Martin and Sammy Davis, Jr. team!
"Chelsea wants to do more of a variety act, a mix of her talk show and her stand-up routine that could include her pals like Jennifer Aniston and Whitney Cummings," the source said.