Exclusive
Drunkorexic? Expert Says Off-The-Wagon Tara Reid Is 'Significantly Underweight'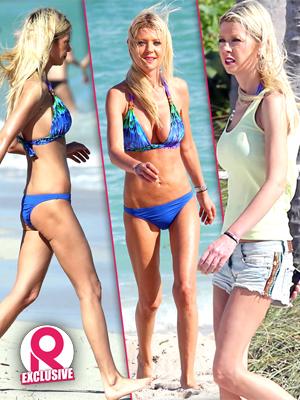 Rehab alum Tara Reid is back on the booze— and it seems to be compromising her health.
The Sharknado 2 actress, who checked into an L.A. rehab facility for alcohol addiction in December 2008, openly admitted she was off-the-wagon in 2013 after photos emerged of the troubled star stumbling shoeless outside an L.A. Club and falling onstage at a gay pride event in Stockholm.
"Excessive partying can absolutely lead to weight loss," New York licensed dietitian Joseph J. Mutz tells RadarOnline.com, predicting that alcohol abuse has caused Reid to suffer from malnutrition. "Mixing caffeinated drinks with alcohol can suppress the appetite without providing much in the way of nutrition." Mutz has not treated Reid.
Article continues below advertisement
Mutz estimates that 5' 5" Reid, 38, who shocked fans with her scary skinny frame on April 24, is around 100 pounds— approximately 25 pounds underweight.
"An alcoholic can derive 50-70% of their daily calories from alcohol," the expert continues. "This deprives the body of essential nutrients."
The former American Pie sweetheart raved about her newfound sobriety after completing rehab in early 2009.
"The truth is, some people can't drink. I like alcohol but it didn't like me," she explained to In Touch. "I numbed my feelings. It was no life to live."
Four years later, she seemed to have changed her tune.
"I think you can learn to control it," Reid, currently dating Infected Mushroom musician Erez Eisen, reasoned after photographers caught the inebriated star stumbling into a parked motorcycle in St. Tropez. "It's about moderation."