Starving Herself? Tara Reid Steps Out Showing Scary Skinny Pin-Thin Legs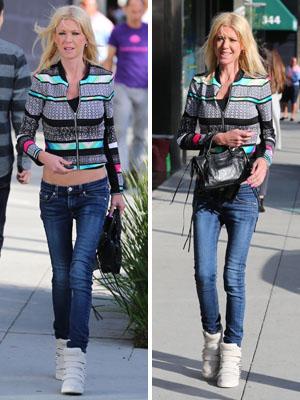 Tara Reid looked emaciated on an outing in Beverly Hills with her boyfriend Erez Eisen Wednesday, displaying a scary skinny form as she shopped in the well-heeled area.
The bony blonde beauty of films such as The Big Lebowski, American Pie and most recently, the instant cult classic Sharknado, looked especially frail in blue jeans and a striped top, as she shopped in the 90210.
The 38-year-old, who once dated Tom Brady, looked a tad healthier in a bikini pic she uploaded to her Twitter feed late last month.
Article continues below advertisement