Exclusive
A Drug Overdose, Suicide Attempts, A Cheating Scandal & Bankruptcy: The Dark Past Of The Couple Behind The Kardashians' Family Church Revealed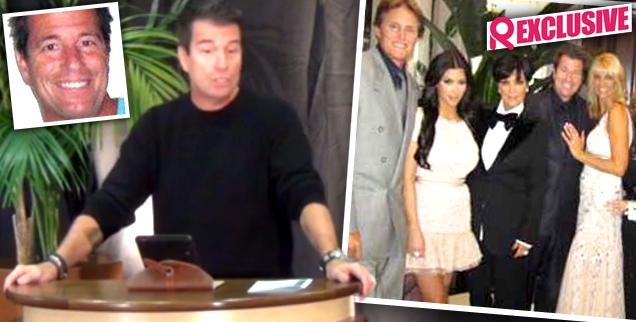 On Sunday, April 20, like the past two years before, the Kardashian family will likely make a pilgrimage en masse to the California Community Church for Easter mass.
Momager Kris Jenner's hand-picked Pastor Brad Johnson will lead the congregation, but as he holds forth to the family and his other parishioners on the holy day, how many of them will know about the many dark sins that Johnson has secretly committed? A drug overdose, a cheating scandal, bankruptcy, and more, as RadarOnline.com has learned!
Article continues below advertisement
Before Johnson signed on to be the pastor of the Kardashian's church, he led a 4,000-person congregation called Calvary Community Church in Westlake Village, Calif. -- until his personal tribulations exploded in a seamy cheating scandal. Johnson stunned parishioners in 2007 by admitting he had been cheating on his wife.
In an open letter posted a year later on his blog, he admitted: "I am sorry for the pain and emotional upheaval my actions have caused you and the precious bride of Christ. I'm sorry for the deceptions, the irresponsibility, and the sin of adultery that came from my life and infected others. I assume full responsibility for my actions with no excuses and no rationalizations."
READ -- The Cheating Pastor's Divorce Papers
"The weight of my sin tore at me," he explained. "I spiraled into depression and couldn't recover. I confessed to my wife and my two beautiful daughters (hardest moments of my life)."
According to divorce records obtained by RadarOnline.com, Johnson filed for divorce from his wife, Kimberly Jean Johnson, in August 2007, listing the date of separation as June 30, 2007. They had been married for 27 years -- and one month. Both parties cited "irreconcilable differences," but did not mention the cheating he later admitted.
Article continues below advertisement
The scandal and subsequent church threw Johnson into a tailspin as he faced criticism from his flock, who felt they had been defrauded by a hypocrite.
"His action created a tremendous amount of resentment and hurt," parishioner Robert Marcarelli said. "Leadership has a higher calling. It's a huge deal."
Cracking under the pressure, Johnson tried to kill himself three times in the wake of the scandal -- a fact he freely has admitted. Twice, he left the house with plans to off himself in mind but did not follow through.
On a third attempt, sheriff's deputies and paramedics were called to his home, he has said, after he took an overdose of pills.
It seemed he would never lead a congregation again. "Regarding future ministry, uh no, can't see it," he wrote in 2008. "Not qualified."
Instead, he began working at a local Starbucks -- until the day Kris and Bruce Jenner tracked him down and convinced him to head their church, then called Life Change Community Church. Soon he was ensconced in the church and the Kardashians' inner circle, even officiating Khloe Kardashian and Lamar Odom's wedding in 2009.
Article continues below advertisement
Almost from the start, the ministry faced criticism from those who believed it was only a money-making venture. The church's website, for example, prominently features donation portals, with past requests that church members donate as much as $1,000 per month, or 10% of their income.
"I give ten percent way to the church and that's what I was taught," Kim Kardashian has said. "Every year, absolutely."
REVEALED: 35 Secrets The Kardashians Want Hidden
Since Kim has been reported to make as much as $18 million in a year, that amounts to $1.8 million in tax deductions.
In addition, Kim has funneled funds to the church through her charity eBay auctions, sending them 10% of any earnings -- all tax deductions for her.
As RadarOnline.com has reported, in 2012 her charity auctions resulted in a net donation of $19,975, according to IRS documents we have obtained. At the same time, she netted roughly $179,775 straight profit for herself from the event -- in addition to that nearly $20,000 tax deduction.
Article continues below advertisement
READ: The Tax Forms Kim Kardashian Doesn't Want You To See
In the U.S., churches are not required to report their earnings to the IRS. Though some participate voluntarily in public financial audits, California Community Church does not -- so just how much of a tax deduction the Kardashian family gets for their donations is in question -- as is what exactly the church does with all that money.
Though millions of dollars in donations could be used to build a megachurch to rival any congregation's, for example, the Kardashians are content to attend service at a Sheraton Hotel in Agoura Hills, where the church rents the ballroom on Sunday mornings for service.
LeAnn Rimes and Eddie Cibrian have also been spotted attending services there.
And though business and court records reports on the church are spotless and Johnson's own financial history is without blemish, the same cannot be said of his second wife, Karen, whom he married in 2011.
According to court records obtained by RadarOnline.com, she filed for bankruptcy twice -- in 1997 and 2002 -- while married to her ex, Gary McCann, who passed away in 2009 at the age of 55.
Article continues below advertisement
Celebs Who Have Slammed The Kardashians
What's more, she was hit with a federal tax lien from the IRS for $10,593 in 1997, and yet another from the feds for $4,935 in the same year. She settled both debts in 1998.
In short, both Johnson and his wife have the kind of checkered past one might expect from a reality TV star -- and not the leader of a religious congregation. But he insists that his struggles have made him that much more efficient at ministering to those in need of salvation.
REVEALED: 35 Secrets The Kardashians Want Hidden
"I really can understand and relate to people who are at the bottom, people who have hit hard," he's said. "I understand that place in line."
Indeed, though he lived in a modest townhouse just a few years ago, he moved up to a $850k spread in Thousand Oaks in 2012, and his current living situation and financial details are not public knowledge.
Do you think Johnson seems like a good choice to lead a church and act as spiritual adviser to the Kardashians? Why or why not? Let us know in the comments!