Exclusive
Victory For Courtney Love! Judge Tosses Out Assistant's Claims Of 'Extreme And Outrageous Conduct' In Bitter Lawsuit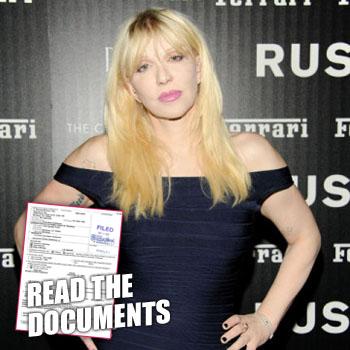 Courtney Love scored a major legal victory against a disgruntled former assistant and RadarOnline.com has exclusively obtained the court documents that show the judge threw out the accusations that could have cost the rocker a large sum of cash.
Love, 49, was sued by Jessica LaBrie, her former assistant who claim claimed that Kurt Cobain's widow fired her and refused to pay her her salary because she wouldn't commit fraudulent & unlawful activities - allegedly relating to hacking and document forging Love wanted her to do, according to the court documents.
Article continues below advertisement
A Los Angeles judge has sided with Love and threw out the claims of wrongful termination, wrongful termination in violating public policy and intentional infliction of emotional distress.
LaBrie had accused love of engaging in "extreme and outrageous conduct."
The judge noted in the documents obtained by RadarOnline.com that LaBrie's firing by Love "is not outrageous conduct beyond the bounds of human decency."
However, the judge did allow four other claims to proceed and Love is scheduled to be in court to face the ex-assistant over her accusations of failure to pay wages, failure to pay overtime, failure to reimburse business expenses and breach of contract.
The next hearing for Love is scheduled for May 2, 2014 in Los Angeles.
Stay with RadarOnline.com for developments in the case against Courtney Love.