Exclusive
One Last Party! Inside Charlie Sheen & Bret Rossi's Over-The-Top $100K Engagement Bash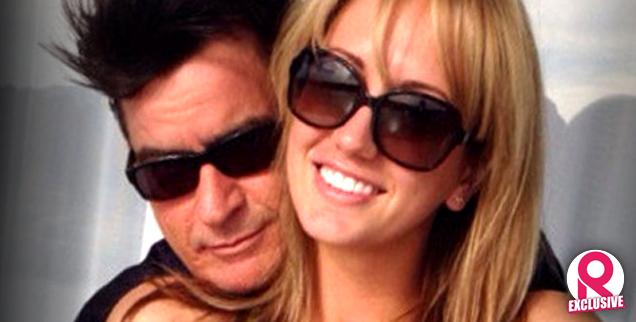 Charlie Sheen is ready to settle down with porn star fiancée, Brett Rossi, but before tying the knot, RadarOnline.com has learned, he treated his extended entourage to an elaborate engagement party at his Beverly Hills mansion over the weekend – and he told guests the wedding will be in the next few months!
"Brett had been asking Charlie to throw a huge party for them celebrating their engagement," an insider tells RadarOnline.com, "and he agreed to last weekend."
Article continues below advertisement
"The party was absolutely stunning, and must have cost Charlie at least $100,000," the source continues. "The event was catered and a party planner was enlisted to take care of the details so Brett and Charlie could just enjoy the festivities."
The guest list "consisted primarily of Brett's porn star friends and her family," according to the source.
And they'll all likely be gathered together in just a few months, the source says, Sheen and Rossi plan to wed as soon as the prenuptial agreement is ironed out.
Article continues below advertisement
In addition, the source explains, "Having Brooke at the wedding will also show the twins that they all get along."
Indeed, the troubled tots are a major consideration as Sheen and Rossi plan their big day, the source says.
"The twins are going to be a part of the wedding ceremony," the source reveals. "Charlie and Brett are planning on giving them special gifts to make Bob and Max feel a part of their new family."
Meanwhile, some of Charlie's friends are privately questioning why he is in such a rush to marry Brett. "Charlie has only known her since November, hardly enough time to get to know someone. Have a long engagement, but why rush into marriage. This will be Charlie's fourth marriage, you would think he would have learned by now, but he hasn't," the source added.