Exclusive
Here Comes The ... Ex-Wife! Brooke Mueller WILL Attend Charlie Sheen's Upcoming Wedding To Porn Sta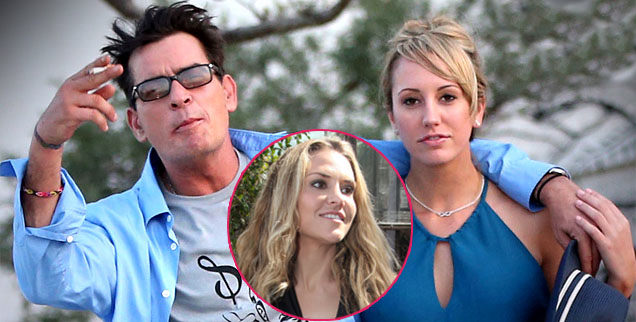 Something old, something new, something borrowed -- and someone the groom used to sleep with?! As Charlie Sheen prepares to wed porn star girlfriend Brett Rossi, RadarOnline.com has learned that his one-time nemesis and ex-wife, Brooke Mueller, will be attending the ceremony. What's more, her twin sons with Sheen, Bob and Max, will even play a special role in the festivities.
Sheen and Rossi "both had the idea to invite Brooke to their wedding," an insider reveals. "They all get along and are one big happy family. It might be unconventional for most people, but not for Charlie's wacky world!"
Article continues below advertisement
In addition, the source explains, "Having Brooke at the wedding will also show the twins that they all get along."
Indeed, the troubled tots are a major consideration as Sheen and Rossi plan their big day, the source says.
"The twins are going to be a part of the wedding ceremony," the source reveals. "Charlie and Brett are planning on giving them special gifts to make Bob and Max feel a part of their new family."
As RadarOnline.com exclusively reported, Mueller is "ecstatic over Charlie's choice for a future wife," a source said. "She is so happy. Brooke has repeatedly been over to Charlie's house with their sons, Bob and Max, and she and Bret have truly hit it off."
Video & Photos: Brooke Mueller's Crack Binge — And $1500 Meth Drug Deal – Caught On Video
The 36-year-old socialite has joked that she "prefers women over men" — a reference to Rossi's girl-on-girl adult acting and "has even joked that Charlie is an amateur compared to her, and she would 'pinch hit' for Charlie with Brett in a second if she got the chance," a source previously said. "Brooke loves the current environment of Rossi's support and the bond all of them are creating, while she resides in a house Charlie bought her just down the street."
But meanwhile, as RadarOnline.com has reported, Sheen's second ex-wife, Denise Richards, has been "excommunicated" from the pack.
Sheen, 48, is dragging Richards into a private mediation session as soon as this week in an effort to lower her child support payments, since she allegedly refuses to let him see his two daughters with her, Sam and Lola.
But even though Sheen and Mueller have reached a temporary truce, another source tells us, "Don't expect it to last. It's only a matter of time until Brett gets jealous of Brooke, and demands Charlie cut off contact with her too!"