'Different Directions': Brandy Says She's Not Friends With Ex-Stylist Kim Kardashian — Or Her Family — Anymore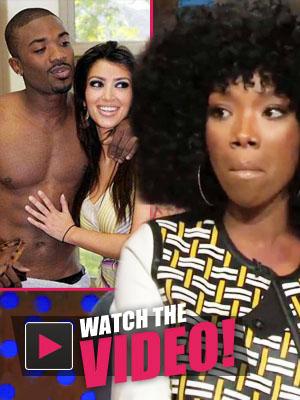 While it can be said that the Kardashian empire rose, indirectly, off the heels of Brandy's fame — by Kim's own admission, her 2007 sex tape with the singer's brother's Ray J. "introduced her to the world" — the R&B mainstay wore a stone faced expression when asked about her one-time running mates on Thursday's Watch What Happens Live.
Prodded by Andy Cohen if she's friends with the queens of Calabasas — Kim was even Brandi's personal stylist at one point — "The Boy Is Mine" singer wore a stonefaced glare and said, "No," which Cohen perceived as an untenable, "scotched earth" situation.
Article continues below advertisement
They Really Did Say It! 50 Outrageous Kardashian Quotes
"I wouldn't say … not scorched earth … we grew in different directions," the 35-year-old beauty said, with fellow guest Mario Lopez — no friend of the family either after Momager Kris Jenner wanted to bump him off The X-Factor after to clear room for more Kardashians — smirked nearby.
Watch the video on RadarOnline.com
One possible cause to the bad blood could be their respective career directions since the year 2007 — compare Kim's 20.8 million Twitter follower count to Brandy's 2.37 million, for example — as the Grammy winner has seen her one-time stylist ascend to the heights of international celebrity, and become a true household name, while her own career has stagnated in the wake of a Dec. 2006 car accident in Los Angeles that left a 38-year-old mother-of-two, named Awatif Aboudihaj, dead.
In contrast, the family's pop culture takeover — from the endless endorsements and entrepreneurial ventures, to social media superstardom — began that year, heavily buoyed by their E! reality show Keeping Up with the Kardashians, which came on the heels of Kim's notorious sex tape, dubbed Kim Kardashian, Superstar. Kim later called the "leaking" of the clip "humiliating," while conceding the publicity it generated was priceless.
Article continues below advertisement