'RHOA' Star Cynthia Bailey Defends Porsha Stewart In Divorce, Declares 'I Was Mad As Hell' At Kordell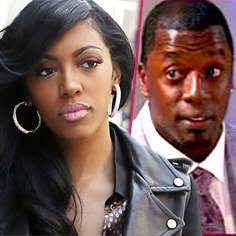 Although Porsha and Kordell Stewart's divorce came as a shock to their Real Housewives of Atlanta co-stars, Cynthia Baileyhas concluded that the spit was a "win-win" for everyone.
"Shortly after the reunion, it became public knowledge that Kordell filed for divorce from Porsha on Twitter. Now I was mad as hell at him and my heart completely went out to Porsha. Clearly, none of this is really anybody's business, but I think at that point everyone was a little upset and we all felt bad for Porsha," Bailey recalled on her Bravo blog.
Article continues below advertisement
During the divorce, Bailey's husband Peter Thomas – along with Bravo cameras – went to visit Kordell to get his side of the story.
"I didn't see anything wrong with Peter talking or going to visit Kordell. If for no other reason than to find out if he had lost his damn mind! Who files for divorce on Twitter? It just all seemed so crazy and out of character," Bailey wrote.
The pair's divorce was finalized in December, ending the pair's two-and-a-half year marriage -- and Bailey believes the former couple is better off.
"After hearing both sides, it sounded like it was a win-win for both of them.
"I can't speak for Kordell, but Porsha definitely seems to be very happy and is moving on with her new life!" Bailey wrote.
Since the pair's split, Porsha has moved on, and recently told OK! Magazine that she has a new love interest in her life.
"He's well-known, so I'm being cautious," Williams said. "He's someone very special. He's standing out from the pack right now. We'll see how that turns out."