Nigella Lawson In Tears While Talking About Split From Hubby, Domestic Abuse & Drug Use: 'I've Had Better Times'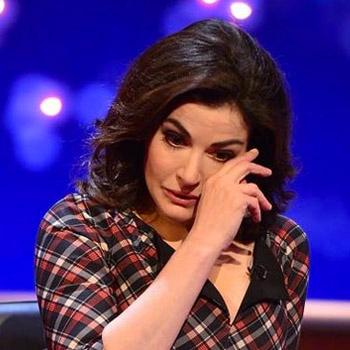 Article continues below advertisement
"I have had better times," Lawson said.
GALLERY: Cooking Up Trouble! 11 Celebrity Chefs Scandals
"It's spring and I am feeling better and I am very happy to be here."
Lawson, 54, went on to say, "I try not to live in the public sphere very much. You have your own life and you are the person inside. I really think if the major thing in your life is what people who don't know you think then you are living your life wrong.
"I'm not particularly guarded and I say and do some things I may regret later. But I would rather embarrass myself and be a bit idiotic sometimes than spend my whole life worrying about what people think."
Lawson briefly opened up in Jan. on Good Morning America — but it was the appearance on McIntyre's show that had her in tears.
"I'm not an innocent, I understand how it works. I just don't involve myself," she told McIntyre.
Article continues below advertisement
"I don't speak and don't comment. I could say things and be indiscreet but I don't want to."
Lawson moved out of the home she shared with Saatchi, 70, in June after photos surfaced of him grabbing her by the throat, and the couple were granted a quickie divorce after the advertising tycoon filed last July.
"The real truth is if you don't read things and don't get too involved it doesn't enter your bloodstream. If it doesn't enter you bloodstream you are not contaminated," Lawson said.
"What I have found is it has given me a far too sensitised reaction to newspapers. We all like gossiping in our own lives so I don't take a lofty view. I just perhaps feel having had a layer of skin removed I am more sensitive to other people's fortunes."
Lawson's full interview will air on The Michael McIntyre Chat Show on BCC One on Monday, March 31.